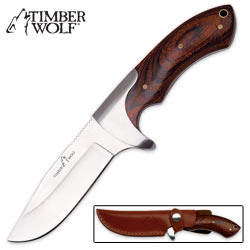 Last fall I wrote a post about three budget knives you might want in your pack because they were inexpensive.  Last weekend, I had the chance to bring one of them camping as we openend up the campsite for the season.  Prior to going I gave the Timber Wolf Blazin Bowie a quick sharpening and threw it in my backpack for the trip.  When we got to the campsite I jumpted out of the truck and strapped it on.  It's usually the first thing I do, and usually one of two knives gets strapped on, my Gerber Profile or my Ka-Bar Becker BK2.  I did bring my BK2, just in case I had issues with the Timber Wolf.  As it turns out, I didn't need to worry about it.
So, a little about the Timber Wolf Blazin Bowie.  In size it is nine inches long overall.  It is made of "German Stainless Steel."  If you click the link, you will see that German Stainless is not the hardest metal, but not the softest, and is likely on the softer side, which makes it easier to sharpen.  Historically, softer steel also dulls quicker.  I don't know much about steel, so if you do, please feel free to comment.  However, I noticed that it kept it's edge pretty well.  More on that later.
When I bought this knife, I was attracted to it's design.  I thought the handle looked ergonomic, the blade was deep, and it was a good thickness.  The knife itself is 3/8″ thick, as well as full tang.  The blade itself is an ample 4 1/8″ long.  I think I paid $20.00 for it.  Well when I received it, one of the first things I noticed was "Handcrafted in China" on near the handle on the blade.  Sigh… Oh well.  It is what it is. The sheath was an interesting design, as you can see from the picture, and seems an okay quality.  Not the highest, which seems to be a common complaint among budget knife purchasers.  Yet still functional it sat well on my side from my belt.  As for balance, the blade is not as heavy as the handle, so using it as a chopper may not be the best option, although it was instrumental in chopping small branches up to 1/2″ thick pretty quickly off of some fire wood.  Also as a "stylish" knife, when I went to baton firewood, I was concerned that it might not hold up, either.  I was dead wrong on that one.  The TImber Wolf held up just fine.  In fact, it cut through most of the logs I was splitting like butter, and held it's edge pretty well throughout the whole camping trip, which incidentally was only 48 hours.  It did slip out of my hands once or twice, but it was in the low 80's and I was working up a good sweat, and my hands were wet from the perspiration.
I used this knife on and off all day, batoning, cutting twigs off branches to use for the fire, cutting food, cordage, etc.  As a camp knife, it passed my tests with flying colors.  As a knife I would use for an extended period of a week or more in the field, I think it would be fine.  If you were going to use it to cut larger saplings to build a shelter, you may need to baton it into the sapling to get a good deep cut in, as the blade is not as heavy or heavier than the handle so getting a good chop in might be tough.  I am not sure how long the sheath will last, so investigating a kydex or new custom made sheath at some point might be a good idea.  Although, psychologically, when you pay $20.00 for a knife, a $30.00 or $40.00 kydex or custom made sheath sounds a little silly.  However, if the utility of the knife is far longer than the life of the sheath, it is not a bad investment.
In the end, this was a good purchase, I will certainly keep this knife in a pack and take it camping again and continue to put it through it's paces.  If there is more to add later, I will make updates to this post…