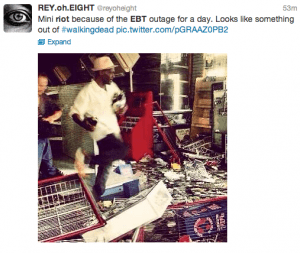 Over the weekend you no doubt heard about the EBT outage that bright the system to a halt.  If you don't know what EBT is, it means "Electronic Benefits Transfer" and is the electronic version of the "Food Stamp Program."  So, this means that  instead of receiving paper food stamps and paper checks, you are issued a debit card called the EBT Card to purchase food products and access cash benefits by your state government.
All states have systems that use magnetic stripe cards and "on-line" authorization of transactions. When paying for groceries, the customer's card is run through an electronic reader or a point of sale terminal (POS), and the recipient enters the secret PIN to access the food stamp account. Then, electronically, the processor verifies the PIN and the account balance, and sends an authorization or denial back to the retailer. The recipient's account is then debited for the amount of the purchase, and the retailer's account is credited. No cash money changes hands. Payment is made to the retailer through an ACH settlement process at the end of the business day. Most states' online EBT systems are interoperable through the Quest network, which is sponsored by the Electronic Benefits and Services Council (formerly the EBT Council) of NACHA.
NACHA is the National Automated Clearing House Association, who manages the development, administration, and governance of the ACH Network, the backbone for the electronic movement of money and data in the United States. It is funded by the financial institutions it governs. The ACH Network serves as a network for direct consumer, business, and government payments, and annually facilitates billions of payments such as Direct Deposit and Direct Payment. Utilized by all types of financial institutions, the ACH Network is governed by the NACHA Operating Rules, a set of rules that guide risk management and create certainty for all participants.
So, in short the Federal government provides the network for states (and other commercial institutions) to provide for, monitor, transfer, the facilitation of money to and from consumers electronically.  As we saw this weekend a small portion of that system failed in a big way, leaving many government benefit recipients without funds to purchase food for themselves and their families.
I'm not going to try to get political here, so bear with that please.  I am going to try to illustrate how quickly the system failed and how quickly "implied" pain and suffering kicked in.
Now who was affected?  Food stamp recipients in 17 states of the United states were affected.  More specifically those who rely on WIC programs and SNAP programs were affected.  Arguably a small portion of the system, yet, a small portion of 17 of the 50 states.  The ratio, if you cannot do it in your head is 34% of the states in our country.  And to be honest, I [click to continue…]
{ 0 comments }