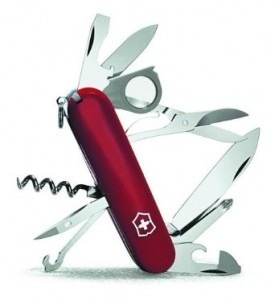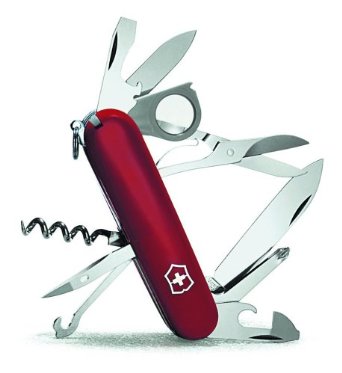 I almost forgot about them.  I did.  I had a couple of them as a kid, that sadly were misplaced.  I'm talking about the Swiss Army Knife.  With multi-tools being so popular for various reasons I literally have not given the Swiss Army Knife a look in several years.  I have two or three multi-tools.  I used one of them yesterday.  Great application if you do not have a pair of pliers handy.  That is the real value add, if you ask me over the Swiss Army Knife.  The multi-tool has a pair pof pliers that you can use for various tasks from crimping to taking a hot container off the fire.  However, with the TSA announcing this week that at the end of April folding knives with blads less than 1/2″ wide and less than 2.36″ in length will be allowed on planes.  The caveat is that the blad cannot lock back, and it cannot have a "molded" handle.  I had to take another look at the Swiss Army Knife again.
I normally will pack a multitool in my luggage, along with my EDC.  I probably still will. That won't change.  But having a pocket knife as EDC and being allowed to have it in the airport or on the plane, makes me feel a little easier.  Not for self defense, mind you, but I can't count the times I thought I might need a small blade in a pinch for some task.  Whether it is the small screwdriver, the scissors, or the small blade to trim something…
I recently went to Amazon.com and looked over the Swiss Army Knives.  I looked specifically at:
I eventually settled on the Swiss Army Huntsman II, but in hindsight, I am thinking I should have purchased the Swiss Army Explorer.  I say this because it has the magnifying lens, which "may" be able to be used to make fire, as well as the additional phillips head screwdriver.  I do like the  Swiss Army Huntsman II, however.  It is lighter than any of my full time multi-tools, and I barely feel it in my front pocket.
I will also probably end up buying a smaller multitool with a smaller blade to keep in my pocket for business travel, or just buying the Swiss Army Tinker with the pliers and being happy with that…
We will see…