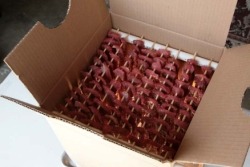 So, while on the SurvivalMonkey.com forum this morning, I came across a post called "The $10.00 Jerky Maker."  I am sure many of you have seen these cardboard box jerky maker/driers in the past…  After my first skeptical look, I  was impressed with the simple design of how the designer built this, and even with a backup battery bank and solar set up, this looks like it would still work well.  Here is the link to the page, and the documents for your use and design:
After looking at the design, I might line the box with aluminum foil or insulation with the aluminum foil like backing to keep the heat in the the box if it had to be used in an environment with lower heat conditions.
———-
Please register with the Suburban Survival Blog today for contests and give aways today! Click Here To Register Now!
Don't forget to check out our sponsors and affiliates located to the right. They work hard to make sure the products you want are available when you want or need them for your preps.
Check out Suburban Survival Blog Daily.
Suburban