When I bought my
iPhone
last year, I quickly realized it had the potential to be a survival tool  My search for iPhone apps under "camping, hiking, and survival" quickly returned many options for me.  I have tried a bunch of them, and am using the 'best ones for me' at the moment.  They may not be perfect, AT&T's signal may stink at times, and I may not have service at all in some areas, but some of the apps are useful without service.  Here is what I have: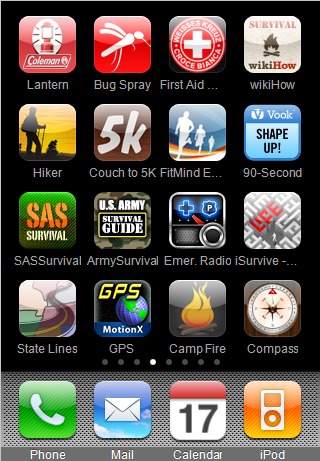 So that's it… These are my outdoor/survival apps that I may need in a pinch.  Some of you might be thinking the iPhone battery sucks.  Well, yeah, it does.  So I carry two items with me that help me out a bit.  First is the Mophie backup battery case.  It will just about fully recharge my iPhone if I turn it off and let it charge depleting the case's battery entirely.  I also carry a rechargeable backup battery for the iPhone.  So effectively, I can get three full charges from my phone if I need to in an emergency situation.
———-
Please register with the Suburban Survival Blog today for contests and give aways today! Click Here To Register Now!
Don't forget to check out our sponsors and affiliates located to the right. They work hard to make sure the products you want are available when you want or need them for your preps.
Check out Suburban Survival Blog Daily.
Suburban