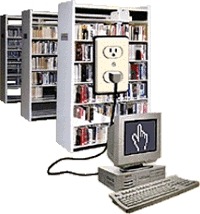 So, by electronic survival library, I mean readable in PDF, MS Word, or on my Kindle App on my iPad.  I currently have all my electronic books on the iPad, netbook, my laptop, and a couple of key chain USB keys (one of which is attached to my keys).  I keep them all segregated by their general topics, such as, "First Aid, Knots, Terrorism, etc."  I am slowly working my way through reading all these books as a matter of self education.  In addition to that, as I mentioned, I keep them handy on my electronic devices, one of which is always with me, in the event I "need" to reference them in a pinch.  They cover a wide range of categories, and some are much more comprehensive than the others, but all are worth reading and perusing no matter how simple or comprehensive…
Oh, and some of these may not be the exact documents, as I could not upload them for download due to copyright violations, but there are many PDFs below.  Enjoy.
In no particular order:
Combat – Hand to Hand

Energy

Equipment and Gear

Exercise

Fighting Techniques

First Aid

Personal Wilderness Medical Kit from www.wemsi.org
I have several other documents but because they are copywritten, I did not put them up here.

Food and Water

Gardening

Vegetable Gardening Encyclopedia with Special Herb Section

General

The Village Technology Handbook

Hunting and Trapping

Ragner's 10 Best Traps

Medicine

Medicinal Plant Identification and Use Guide (From TheSurvivalPodcast.com

Nuclear

Operations and Planning

Weapons

Wilderness Survival
What's in your library?
———-
Please register with the Suburban Survival Blog today for contests and give aways today! Click Here To Register Now!
Don't forget to check out our sponsors and affiliates located to the right. They work hard to make sure the products you want are available when you want or need them for your preps.
Check out Suburban Survival Blog Daily.
Suburban