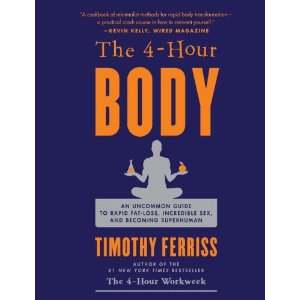 Wow, the new job is certainly keeping me busy.  So busy in fact that I have not had the time to write much the past two weeks…  Not really what I had planned on, but you have to make hay while the sun shines as they say.
I just bought Tim Ferriss's new book called the 4-Hour Body.  It is Tim's foray into helping people lose weight and get into shape quickly without starving your body of much needed requirements.  Because my time is so limited these days, I just purchased this book, will be reading it, and with luck be able to put some of the techniques to use.  Tim, apparently did a TON of research before writing this book, and has kept a log of all his workouts and the results since he was about 18 years old which gave him a ton of history to work from.  Interesting to say the least.  I will review the book once I have finished it, and if I think it is worth the time, I will track my efforts where I can and report back to you so that you too can give it a shot if you wish.
Here is the description of the book off of Amazon.com:
Thinner, bigger, faster, stronger… which 150 pages will you read?

Is it possible to:
Reach your genetic potential in 6 months?
Sleep 2 hours per day and perform better than on 8 hours?
Lose more fat than a marathoner by bingeing?

Indeed, and much more. This is not just another diet and fitness book.

The 4-Hour Body is the result of an obsessive quest, spanning more than a decade, to hack the human body. It contains the collective wisdom of hundreds of elite athletes, dozens of MDs, and thousands of hours of jaw-dropping personal experimentation. From Olympic training centers to black-market laboratories, from Silicon Valley to South Africa, Tim Ferriss, the #1 New York Timesbestselling author of The 4-Hour Workweek, fixated on one life-changing question:

For all things physical, what are the tiniest changes that produce the biggest results?

Thousands of tests later, this book contains the answers for both men and women.

From the gym to the bedroom, it's all here, and it all works.

YOU WILL LEARN (in less than 30 minutes each):
How to lose those last 5-10 pounds (or 100+ pounds) with odd combinations of food and safe chemical cocktails.

* How to prevent fat gain while bingeing (X-mas, holidays, weekends)
* How to increase fat-loss 300% with a few bags of ice
* How Tim gained 34 pounds of muscle in 28 days, without steroids, and in four hours of total gym time
* How to sleep 2 hours per day and feel fully rested
* How to produce 15-minute female orgasms
* How to triple testosterone and double sperm count
* How to go from running 5 kilometers to 50 kilometers in 12 weeks
* How to reverse "permanent" injuries
* How to add 150+ pounds to your lifts in 6 months
* How to pay for a beach vacation with one hospital visit

And that's just the tip of the iceberg.  There are more than 50 topics covered, all with real-world experiments, many including more than 200 test subjects.

You don't need better genetics or more discipline. You need immediate results that compel you to continue.

That's exactly what The 4-Hour Body delivers.