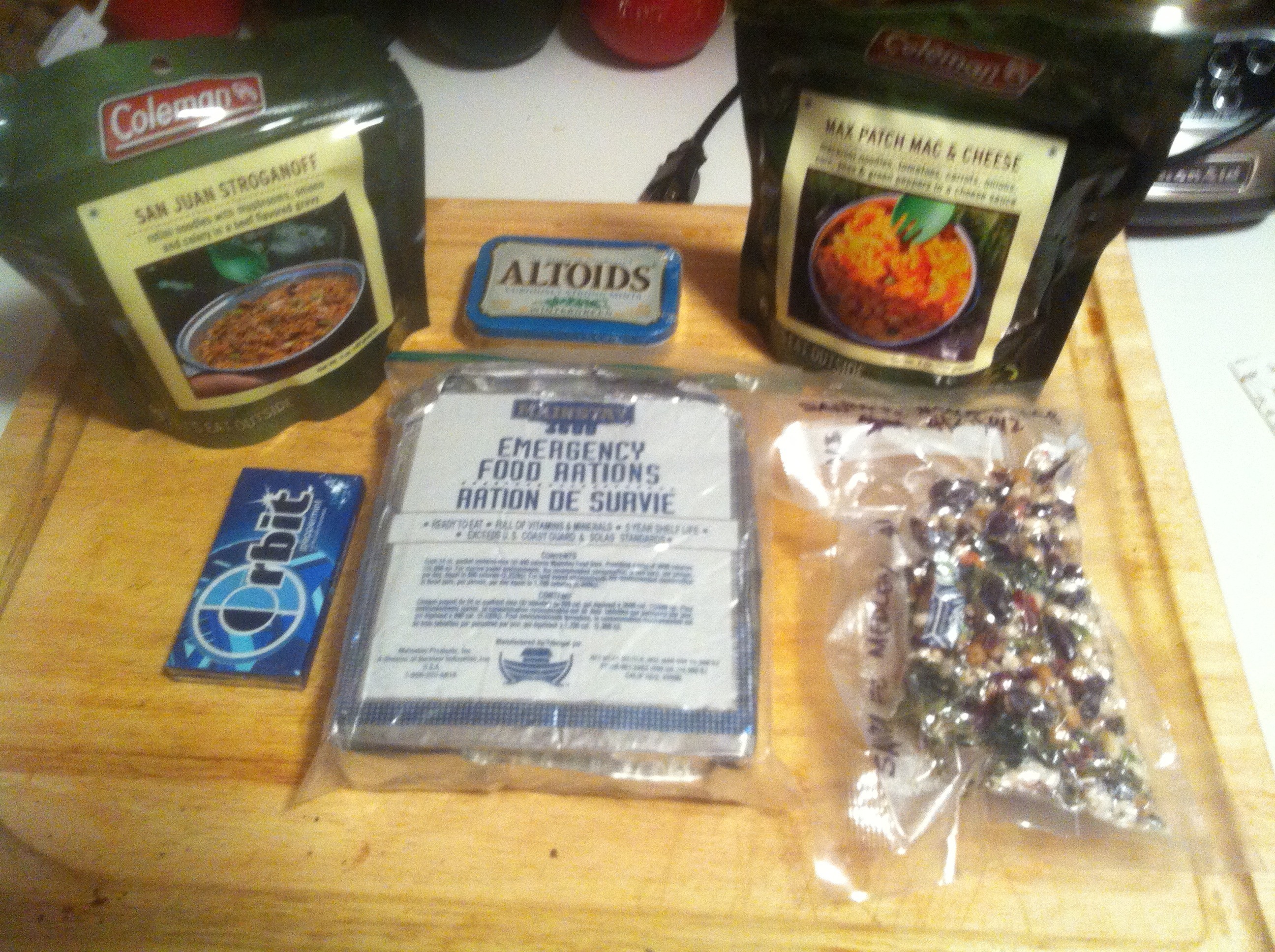 As I mentioned in a previous post, I was concerned about making sure my girlfriend was prepared for an emergency, primarily to get to my domicile in the event of an impending or happening disastrous situation.  I hope to make sure she is safe as well as her dog, whom I have become very fond of, despite the fact that he lacks the obedience gene.  As we all know, getting prepared doesn't happen overnight.  So one of the first things I did, was put together a 'get home bag' for my girl.  Listing the contents below, you might think that it is a cross between a Get Home Bag and a 72 hour bag.  There's a reason for this.  First, with the weather events that have been becoming increasingly interesting (that's my technical term) over the past couple of years, I thought it prudent she have something comprehensive in the anticipation of it taking longer than one day for her to get to my place.  As a matter of timing and distance, using Google, I have mapped out four different ways for her to get to me by vehicle, walking, or bike.  In each case there are multiple towns, bridges, and other obstacles for her to get through before she gets to me safely, assuming I cannot get to her first.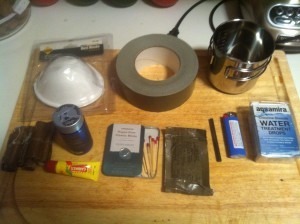 That said, this to some may look complete, and to some may look incomplete.  Everyone will be right, and everyone will be wrong.  More importantly than the gear, will be the education on how to use the gear and how to start thinking outside the box so that she cab see the potential situation.  Additionally, what you will not see here, is the instructional manual indicating the contents of the pack as well as the basics on how to use the contents, and the four routes to my place in the event she has to walk or bike it to me over the course of a full day or a couple of days.  So everyone knows based on the roads by way of foot or bike, it is 12.5 miles of streets to my place from hers.
So, here is what I put in the pack for her to throw in her car:
Light / Heat / Cooking / Water Purification
Shelter / Warmth
This was a Hygiene kit I put together from products from a company at Cert-Kits.com.  I have made these kits for my Bug Out Vehicle, my every day driver, my Girlfriend, and one for my hiking pack as well.  It contain products that I will also try to point to in Amazon.com so you can find them easily:
First Aid
I purchased this Adventure Medical Kits Adventure First Aid 2.0, and I ALWAYS add to them with additional gear.  It looked like a pretty good hikers first aid kit, and the pouch was large enough I could augment it with more first aid gear.  I always add a triple antibiotic, super glue, lighter, needle, thread, etc. to every first aid kit I purchase or build so that if you need to think outside the box in a pinch.  I once used duct tape and bath tissue (toilet paper) to stop the bleeding of a friends foot when he sliced it open.
Food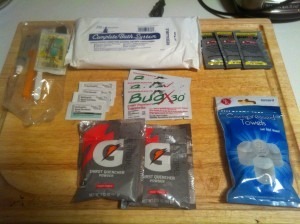 For food I tried to go simple and some variety.  Because my girlfriend is half a vegetarian (she eats fish but not meat or chicken), I wanted simple for her so she didn't have to think about what to eat.  In an emergency situation even thinking about what you might want to eat expends mental energy you really should not be expending.  There is enough food here for almost four days.  More than enough to take the trek on foot to my place for even me.  Although, if I were expending the calories, I might eat all the food if it took me three whole days to get to my home, albeit it should not.  So this is what I packed her:
Other Gear
Education
With all this gear, will come an education on how to use it, and when is the appropriate time to use it.  Right now the GHB is sitting on her bedroom floor.  Not a good place for it, but I do not want her putting it in the car or humping it to her office prior to learning how and why some and/or much of the gear in the bag should be used.  Whether she knows it or not her education starts this weekend.  First lessons will be water and fire.  More on that post lesson…
What else would you put in the get home bag of your significant other?