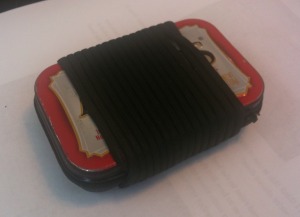 One of my buddy's asked what I bring with me when I travel on business.  I made a small video for him from my iPhone, but I thought I would publish contents of the Altoid kit that gets on the plane with me every time I fly.  It is TSA friendly, but lacks a blade of any kind, and lacks a way to make fire.  The two things the TSA would frown on and confiscate, yet has what I would consider travel related items that would allow me to be a bit more comfortable in an uncomfortable situation as I "should" have the gear that I put in my checked baggage when traveling.  I always check a bag, as there is usually some preparedness item in the luggage that would not make it on the plane with me, such as a lighter and a pocket knife. That said, my "carry on Altoids tin/kit" is as follows:
1 – One quart plastic freezer bag,

2 Square feet of heavy duty aluminum foil
3 – Zyrtec antihistamine allergy tablets
3 – Altoids (takes the place of one piece of candy)
4 – 500mg Tylenol tablets
1 – Antiseptic towel
1 – Bouillon Cube
1 – 24 Hour Sudafed cold & flu tablet
1 – Each Salt & Pepper packet
1 – Button compass
3 – Needle and thread
25′ – Waxed String (Dental Floss)
3 – Safety Pin
2 – 4′ Steel 45lb Fishing Lures (to be used as snares if necessary)
8 – Iodine tablets to purify water
1 – Imodium tablet
1 – Tea bag (Earl Grey)
3 – Cotton Balls
3 – Band Aids
12″ – Duct tape cut into 3″ strips, stacked, and stuck to the inside of the lid
2′ – Electrical tape wrapped around the outside of the Altoid kit to seal it shut and have the tape for use
10′ – Paracord wrapped around the Altoid kit tightly.
There are certainly items that I might want in there, but they just would not make it on the plane.  I do have another kit that is for everyday EDC with a way to make fire and cut inside of it, however.  As for the picture, I have used this in another post, but all my Altoid kits look the same, but are labeled differently…