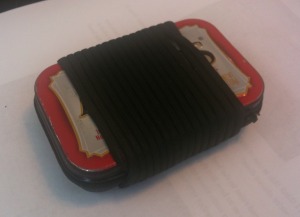 One of my bud­dy's asked what I bring with me when I trav­el on busi­ness. I made a small video for him from my iPhone, but I thought I would pub­lish con­tents of the Altoid kit that gets on the plane with me every time I fly. It is TSA friend­ly, but lacks a blade of any kind, and lacks a way to make fire. The two things the TSA would frown on and con­fis­cate, yet has what I would con­sid­er trav­el relat­ed items that would allow me to be a bit more com­fort­able in an uncom­fort­able sit­u­a­tion as I "should" have the gear that I put in my checked bag­gage when trav­el­ing. I always check a bag, as there is usu­al­ly some pre­pared­ness item in the lug­gage that would not make it on the plane with me, such as a lighter and a pock­et knife. That said, my "car­ry on Altoids tin/kit" is as fol­lows:
1 — One quart plas­tic freez­er bag,

2 Square feet of heavy duty alu­minum foil
3 — Zyrtec anti­his­t­a­mine aller­gy tablets
3 — Altoids (takes the place of one piece of can­dy)
4 — 500mg Tylenol tablets
1 — Anti­sep­tic tow­el
1 — Bouil­lon Cube
1 — 24 Hour Sudafed cold & flu tablet
1 — Each Salt & Pep­per pack­et
1 — But­ton com­pass
3 — Nee­dle and thread
25′ — Waxed String (Den­tal Floss)
3 — Safe­ty Pin
2 — 4′ Steel 45lb Fish­ing Lures (to be used as snares if nec­es­sary)
8 — Iodine tablets to puri­fy water
1 — Imod­i­um tablet
1 — Tea bag (Earl Grey)
3 — Cot­ton Balls
3 — Band Aids
12″ — Duct tape cut into 3″ strips, stacked, and stuck to the inside of the lid
2′ — Elec­tri­cal tape wrapped around the out­side of the Altoid kit to seal it shut and have the tape for use
10′ — Para­cord wrapped around the Altoid kit tight­ly.
There are cer­tain­ly items that I might want in there, but they just would not make it on the plane. I do have anoth­er kit that is for every­day EDC with a way to make fire and cut inside of it, how­ev­er. As for the pic­ture, I have used this in anoth­er post, but all my Altoid kits look the same, but are labeled dif­fer­ent­ly…