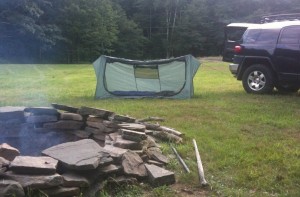 So, I should put out there, that sometimes when we go camping it is pseudo camping, in that a friend has a 5th wheel trailer on some property they own, have a well, electricity pumped in, and a couple of sheds with equipment and tools (axes, saws, etc.).  They own about 200 acres, and it is abundant with wildlife such as deer, black bear, coyote,  mountain lion (very scarce, but they are there), wild pig (also scarce but are there), and all the other wildlife you might expect.  The property borders a large stream that has some trout, and in the event the well is not working, there is a close source of water.  Primarily the property is for them to visit in the summer when they come 'home' from Florida, but are also thinking of putting a cabin or cottage on the property.  At the base of the mountain, there is field that they cleared years ago about an acre in size where the travel trailer sits.
What this allows me to do from time to time, is to easily test out some new gear without having to trek out into the forest and with much less effort.  This is what I did this past Saturday night.  So here is what I did.  Some time ago, I purchased an inexpensive bivy tent from Sportsman's Guide.  It cost me about $30 dollars, and I figured it would be good for quick spring, summer, and fall backpacking trips.  So here is my assessment of the bivy as it was the first time I used it.
It was easy to set up, about 7 – 10 minutes
It would not stand up in a heavy rain, you would get soaked
The base of the tent is 100-+ mil plastic that goes up the sides of the tent about 3 inches to keep water from the bottom of the tent from soaking in
It is vented nicely if you have the door and the window closed.
There is no cover to keep the dew from forming on the tent, so if you sit up, your forehead hits the top of the tent in the morning, and you get a little wet.
Packed, this tent weighs about 5 – 6 pounds.
The tent is big enough for one adult, a "small" pack and your pocket litter.
There was a logo stating "High Gear, Since 1977" on the lower right corner of the tent.
If I were really camping with this tent, I would have strapped a tarp up between a couple of trees to keep it dry in the event of rain.

I also used a new two/three season sleeping bag by chinook.  It is super compact and about the size of a football when packed back up, and weighs just over a pound when stuffed in the sack.  It is a 50 degree bag, and when I pulled it out of the stuff sack, I was skeptical how warm it might keep me when the weather report mentioned it was going to be about 55 degrees in the mountains that evening.   Well, I am here to tell you, that it worked just fine.  In fact, at a couple points, I woke up pretty warm (in a light sweat) and had to pull my arms out of the bag and slide the zipper down a little.  After using it, I was impressed with it for it's thickness…  I think I may buy one of those fleece sleeping bags to keep handy in the event it gets a little colder one night and slip it inside the Chinook bag as an extra layer if I need to.
The Chinook is definitely going in my Bug Out Bag, and will save me a pound or two of weight for a season or two when I rotate gear.