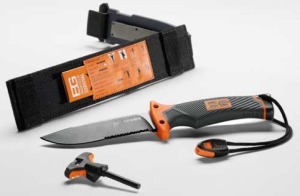 As a knife fan, I really look forward seeing and hearing reviews about knives and how they work in the field.  I hate to make a mistake when buying a knife.  Once you have bought and used it, you own it for life, unless you can unload it on someone for a few dollars if you do not like it.  Recently Field and Stream did a review of two new Bear Grylls items that recently emerged on the market.  I have been looking for a review of the Bear Grylls survival knife.  At first glance, it seems the knife is well equip with a steel butt for hammering, diamond sharpening stone, fire steel, emergency whistle, etc.  Take a look at the review for yourself.  It may be worth getting your hands on one of these if you do not mind a blade that also has the serrated edge on it.  Read the review to learn more, there are 19 mini pages in all, and it is a quick read with a lot of good information:
Check out the review here:  http://bit.ly/dGKnWA
In all this was an objective review, and it looks like this really is a good knife with a few accessories that could help in a survival situation.  For those of you looking for a price, it is about $60.00 on Amazon.com: http://amzn.to/dUab6z, and does not really seem over priced for what it is.  In all, I don't think it is a bad deal all around.
Oh, and as a little added bonus, it comes with a fold up pamphlet of emergency procedures for common emergency situations.  I thought that was worth mentioning as well…