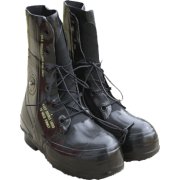 This may be a mundane post by comparison to others, but I had to tell you about my new boots.  Personally, I hate winter boots.  I think most of them actually suck at the job they are supposed to do.  I know how to dress for the cold, I layer, I wear my wool or wool/synthetic socks, make sure I keep moving in the cold, etc. to keep the blood moving, and all that jazz.
That said, several months ago, I got a really good deal on  a pair of new surplus Micky Mouse Boots.  The price was so good (late summer purchase) that I said to myself, I have to give them a shot.  Even if I do not use them this winter, they are a perfect addition to my winter bug out gear.  So, I made the purchase.
Today, after our first snow storm of the year; 18″ of fresh powder and 50 MPH winds that was classified as the equivalent of a stage two hurricane, I slipped them on before I went outside.  I laced them up, but didn't tuck my pants into them.  The first thing  I noticed is that they were roomy in the toe area, which is always a concern to me.  But these felt good.  The second thing I noticed is that the top of the boots were clearly digging into my leg because they are made to have your pants tucked into them.  No matter, I was on my way outside, and quickly in 30+ inches of plowed and drifted snow to get my car dug out.
My concern with boots is that I never have a pair that can keep my feet warm.  I was really concerned with how the Mickey Mouse Boots were going to perform.  The temperature outside was 25 – 28 degrees, and my legs and feet were planted in the snow while I was shoveling and cleaning off the car.  I was out there for about an hour the first time.  Surprisingly, the boots and socks kept my feet pretty warm.  I know I perspired while shoveling… I could feel the sweat being wicked away from my back by my base layer.
On most days, my feet would have been frigid.  I think I also have a blood circulation issue around my feet.  They always have gotten cold quickly.  Something I should have checked out with the doctor.  However, today, my feet stayed toasty warm.  To say the least I was surprised.
As for weight, yes they are heavy.  I am sure they are a pound or more each in weight.  They had VERY sturdy support at the ankle are, and I wouldn't be afraid to climb a large rock with them.   They are rated for something like – 20 / – 30 degrees Fahrenheit, and seemed pretty comfortable to me overall… The date the inside for the contract manufacturer was 1986.  A feature I will never use is the altitude air inlet nut on the side of each boot…
Overall, they did a great job for me today, and I plan on wearing them again as needed.
I do know that there are a LOT of people out there that have had negative experiences with them, because when I Google "Mickey Mouse Boots" there is a lot of negative commentary that comes up when you sift through the noise.  However, it was good to get to use a piece of gear that I normally would not get to use and test it out with some success.
What are your experiences with Mickey Mouse Boots, if any.  I would be interested to hear the horror stories and the successes… I am sure there are readers out there that have punished them at the edge of the world.  Please comment if you can.