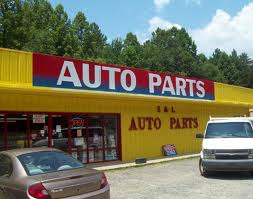 Fri­day, as I was in the
Strauss Auto Parts Store
while they were chang­ing my oil, rotat­ing my tires, and replac­ing my air fil­ter. It occurred to me that the auto parts / sup­ply store is a ver­i­ta­ble can­dy store of
preps
for your home,
Bug Out
Loca­tion, car. While every one is run­ning to
Wal-Mart
if the SHTF, I might just make a last minute trip to the auto parts store to pick up those items I might not have thought of or to stock up on a few items where I could have some redun­dan­cy.
While my car was being ser­viced, I walked around the store and made a list of items that are poten­tial emer­gency items and preps on my iPhone. Here it is in no par­tic­u­lar order:
Road­side Flares — for sig­nal­ing
Cans of spray tire sealant
Tire repair kit (cork and plug type)
Air com­pres­sor to fill tires — 12 volt cig­a­rette lighter plug type
Extra lubri­cant (oil) in all weights
Extra wind­shield wiper flu­id (ammo­nia based) in reg­u­lar, bug removal, and cold weath­er quick melt
DC to AC invert­ers that plug into your cig­a­rette lighter so you may run AC devices from your vehi­cle
Exten­sion cords
Solar shield for your wind­shield that also can dou­ble for a solar oven
Chilton man­u­al for your vehi­cle for self repair
Extra gas cans
WD-40
Tools and Tool Box­es
Shop tow­els
Bat­tery charger/booster units
Key chain and reg­u­lar flash­lights
Anten­nas (radio, CB, and asso­ci­at­ed wiring)
Replace­ment side mir­rors for your car or truck (ad hoc sig­nal mir­rors)
12 volt car bat­ter­ies, 12 volt gar­den trac­tor bat­ter­ies, and asso­ci­at­ed wiring
Rub­ber floor mats (can be cut into makeshift san­dals
Seat cov­ers (can be cut and sewn into cloth­ing)
Rub­ber hoses and hose clamps
Steel pipe (exhaust pipe)
Fuel treat­ment (com­bustible)
Plas­tic and steel oil pans that are used to col­lect used oil that can be used as water basins or medi­um sized bas­kets
Fun­nels
All size bat­ter­ies D — AAA
Indus­tri­al strength hand clean­er (Orange and GoJoe)
There my be more to this list that I may not have added as I was typ­ing as I was walk­ing through the store, and am sure I missed some­thing. I thought this was an inter­est­ing place for preps and emer­gen­cies if the SHTF. I think one of the first things I would grab are invert­ers, car bat­ter­ies, and a few oth­er items to have a lit­tle more back­up pow­er. After leav­ing the store, I took an inven­to­ry of auto parts stores in my neigh­bor­hood (with­in a one mile radius), and I found three of them and a pletho­ra of auto ser­vice sta­tions…
Take a trip to your local auto parts store and see what else you can find, and make a men­tal inven­to­ry. I real­ly do believe this could be a good resource if need be.