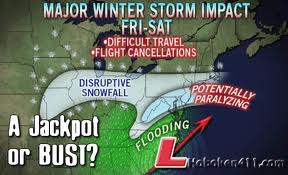 Well, the end of August is coming, and the weather is starting to change a bit; evenings are getting cooler, and days are starting to get a bit shorter.  This to me is a clear sign of a few things.  One, some of my Bug Out Bag contents need to be rotated out soon with winter preps, such as additional base layers, gloves, hats, etc.  That's the simple stuff.  But, what if it is mid winter (as I live in the northeast) and there is an ice storm (thanks for the visual Doug), a snow storm, etc. that knocks out power and gas for a few days and the temperature is going to be close to or below zero.  Maybe the State of NJ has declared a state of emergency and due to their budget being busted, they cannot get plow trucks on the road for a few days.  This is a possible reality that I live with every winter as being a viable SHTF situation for me.
So, that said, what is a prepper that lives in an apartment in NJ to do about a possible power / gas outage in NJ mid winter and not freeze to death if you are stuck sheltering / bugging in?  Well, I can be like 95% of NJ and put on a coat and shiver until the power comes back on and eat peanut butter sandwiches for the duration of the outage.  Um, probably not, because I don't want to be one of those people who die from exposure in their home in the middle of winter because I was not prepared.  So, what have I done to prepare for this type of an emergency?  Well, I have spent a little money, as I think to do this correctly you have to.  Here is what I have prepped for such an emergency:
Heat.  I did spend a little money last fall on a Mr. Heater Portable Big Buddy Propane Heater.  It holds a 16oz container of propane on both sides of the unit, hidden behind two doors, and has an adapter on the rear that takes a 20lb propane container.  I cannot have a 20lb propane container in my apartment, so I opt for the 16oz canisters.  It takes two D cell batteries or runs on AC electric to push the heat from the heater out into the room, and is adjustable from low to high.  I tested it out last year and am pleased so far, but have not used it for an emergency yet.  Now, how will I use it.  First, in an emergency such as described above, I am going to put a tarp up in my living room and a blanket covering the hallway separating the rest of the apartment from the living room and my home office where all my preps are stored.  This will provide me with a smaller area that can be heated in the apartment so that I am not trying to heat the whole thing.  Between the Mr. Heater, a few blankets, and sleeping bags, and knowing how to dress for the cold, I should be in good shape as long as the outage does not last for more than a week (5 – 7 days).  I would also put plastic sheeting over the windows so that I can add another layer of protection from the elements as to not lose heat out the windows as quickly.
Cooking.  Cooking, is another thought.  With MREs, and several dehydrated meal solutions I have, cooking should not be a big deal, but what I did do to be safe is build in some redundancy so that I am covered.  First, I went out and bought a case of sterno and a small collapsible hiking stove that will slide under a storage box I have in my apartment for safe keeping.  I think there are 15 or 20 cans of sterno in the case and I picked it up at Party City, a store that carries party supplies in the buffet supply section of the store.  In addition to the Sterno, I have about 10 boxes of trioxaine fuel tablets for a hiking stove.  For further redundancy I have a propane burner that I can attach to one of my 16oz propane canisters as well to cook with as well.
Human Waste.  Waste is another issue all together.  While I have 35 gallons of water stored, I am certainly not going to use the toilet in the apartment in the event the power goes out.  First, I am not sure the water system pushing water through the plumbing is on a different electrical system with any redundancy.  Second, in the event of a power outage and the sewers are not working, well, any use of the toilet may actually cause sewage backup.  This is disgusting, unsanitary, and going to be an issue for everyone sheltering in, in the event of such a SHTF.  It is going to happen anyway, because people will be using their toilets until they realize they can only get two flushes out of it because it is not refilling… Now multiply that by about 250,000 plus people over a couple of days… Um, Yuk.  So, I have purchased a porta potty so that I may dispose of any waste as properly as I can here in the suburbs.  There will be a post on this in the future… I am sure you will be looking forward to that one.  LOL.
Food Preps.  This shouldn't really be an issue, as I have a variety of foods that are prepared or semi prepared.  I can make myself a hot meal due to my above cooking preps, which incidentally, will add additional ambient heat.
Lighting.  Well, there is some redundancy here as well.  I have a package of rechargeable lawn lights for some simple lighting, as well as multiple flashlights, mini lanterns, etc.  I did buy three hurricane lanterns last fall with enough light kerosene to last several days.  I always buy an extra bottle of kerosene whenever I can find it.  The room/windows should be vented when using these, however.  The hurricane lanterns put off quite a bit of heat when lit, as well, making them good to stay close to on a cool evening.
Entertainment.  I have a bookshelf full of books that I would look forward to tackling again. In fact, last evening I mentioned to a friend on the phone, I need to re-read some of the books on my shelf.  What better time than if you are Bugging In.  More importantly than the books is my eton emergency radio to help keep me connected to the outside world for more information, and to keep me sane with some music every now and then, assuming the radio stations are broadcasting…
Clothing.  Well, I will get into layers in a later post, as this can be a long explanation unto itself
Bug In additions I want to add this fall:
Solar Battery Charger and rechargeable batteries,
Solar Panel with Deep Cycle Battery (or two) and inverter so I can run several small appliances, low powered lighting, recharge my mobile phone, and the TV for news if required for short periods of time. (This would have come in handy a week ago when the transformer on the telephone pole blew up and I had no power for several hours),
Small Wood Stove, both for camping and extreme emergency for bugging in and bugging out.  In an extreme bug in or bug out emergency, I am not afraid to use a wood stove here in my apartment.  It just has to be set up and vented correctly… The perks of being a kid from the sticks in the suburbs…