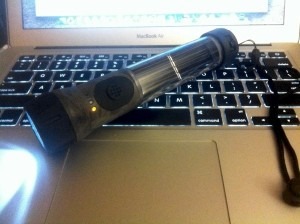 I was recently contacted by The HybridLight Company.  I traded emails with them for a day or two and asked them about a hybrid solar/battery powered flashlight they sell.  Honestly, at first, I wasn't that enthusiastic about reviewing a flashlight.  Everyone has their preference of brands.  To me they are a lot like a pocket knife.  There is a favorite in everyone's kit.  In this case however, I noticed a difference in features that I took interest in.
I asked Scott, at The HybridLight Company to send me a flashlight to review.  He complied and it came to me in about two days.  I pulled it out of the envelope and noticed immediately that this weighed just a few ounces at best.  It has a couple of small solar cells covered by transparent plastic, and a rubberized butt, on and off button for thumb grip, and the head of the flashlight as well.  I think the ends are rubberized in the event that you drop it and it they absorb some of the impact.  Decent design.  It has three LED indicator lights:
One for when it is in the light charging.
One for when the flashlight is on running under "Solar Reserve" and will run for eight hours straight in that mode.
One for when the solar cell is depleted, you can click over to reserve battery power that has about 50 hours of reserve power for the flashlight to function under.
The specifications note that the lithium batteries inside the flashlight are good for 7 years and will retain 90% of their original power.
I unscrewed the butt of the flashlight and the two lithium coin size batteries popped right out and right back in again.
The exciting part, when the batteries go dead, or in the morning, simply place the flashlight in the sun, and it recharges full.  Pretty cool.
The model that was sent to me was Model HL 40.  40 stands for 40  Lumens.  The LED 40 Lumen light is plenty bright though.  In a pinch or emergency it will do better than nothing, that's for sure.
The specifications also say that the flashlight is waterproof.  I submerged it in my bathroom sink for lack of a pool to jump in with it in the middle of winter here in NJ.  I clicked the light on, and it worked just fine.  When I pulled it out of the water, I inspected it for any sign of leakage and it seemed to look and function just fine…
Oh, and it comes with a lanyard to wrap around your wrist, a branch, etc.
First impressions, I like it.  I was a little taken back by how little it weighs.  I am used to MagLights, and as we all know with three plus D-cell batteries, they weigh a bit.  This is so light you can put one in every pack you have and forget they are there because they are so light.  You could drop it in the water off the side of your boat and it will float, drop it in a puddle and it will still work, etc.  I think for the price it is a great value.  The real bonus for me is that you don't have to worry about batteries, either.
So that you are also aware, HybridLight Company also has several other products as well:
Based on my testing of the HL40, my gut tells me these are all good values.  They do not seem to be overpriced, especially since you do not need to replace your power source, and can all be used in an emergency, for camping, and a multitude of other purposes.
Here are a couple of videos about the flashlight as well:  http://goo.gl/MyI3j
In conclusion, I am probably going to pick up one or two more of these, and maybe one in 120 lumens and the Camp Lantern; my addiction to bigger more powerful things.  If you are interested in taking a look or purchasing one or two of these for your own home, gear bags, EDC, etc. you can go to The HybridLight Company.  Shipping from The HybridLight Company on products their lights are free in the United States.  Use the code "Suburban" in the cart so they can track where the orders came from!