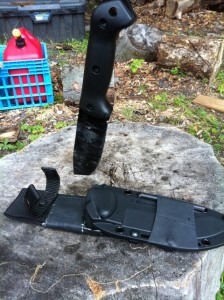 The Becker BK2 by Ka-Bar. I've had this knife for several months, and keep forgetting to write a review of it. So, here it is… In hindsight, I remember pulling this knife out of the box… My first impression was how heavy it was. My second impression was how thick the blade was at the spine, all the way down the tang. The basics of the knife, are this: – 5.25″ blade – 10.5″ overall length – 1/4″ thick at it's thickest – 1095 CRO-VAN Steel Now that that is out of the way, It was pretty sharp out of the box, if memory serves. I was also sufficiently impressed with the weight. I immediately knew this was a great knife. It also felt really good in my hand.
The sheath is a heavy duty kydex sheath, that has several mounting options. It does come with a nylon belt loop, however, personally speaking, the belt loop is a little flimsy, and if you do not have the knife handle snapped in, the knife sort of flops around and hits your waist and leg. No worries, though, the knife will NOT come out of the sheath, as the sheath snaps around the BK 2 tightly. The fact that it does flop around is a little annoying, though. To remedy this, I took a couple pieces of cardboard, wrapped them a few times in Duct Tape. I then slid it in between the belt loop, leaving just enough room for my belt to slide through. I then wrapped the belt loop and the cardboard insert again making it a stationary part of the belt loop. I then slid a ranger band around it to help keep it all together and not unravel. I put it on my belt, and it made a big difference. You can see it in the picture. You will also note I added another ranger band that holds in a firesteel, that works really well with the notch located at the end of the blade right next to the handle. The only thing I may do is add a larger firesteel. The one that I have on there is a bit short and a little awkward to use with such a wide blade. Now, as for chopping, the weight of this knife gives a clear advantage. I have chopped one and two inch sapplings in very short order with this knife; and by short order, just a few good strokes.
As for batonning, fantastic. There were pieces I probably should have used my camp axe on, but decided to try to baton instead. With a little elbow grease on larger pieces of wood, kindling quickly followed. Following the kindling, I shaved down several pieces I had just batoned for tinder. Still did a great job.
Now, I have not done any whittling yet. It seems a big blade for that, but I will give that a try next time I am out camping. We'll see how accurate I can get trying to create notches in wood for a dead fall trap or something like that. I am sure that is going to take some practice.
The blade stays pretty sharp overall, and this is a heavy duty piece of hardware.  I mentioned to a buddy of mine that this was probably going to be one of the last knives I buy for a long time.  I think that that may be the case after all…
So if you are looking for a SOLID knife and work tool, the Becker BK2 is one that I highly recommend.