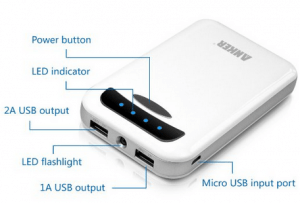 A few months ago I set out on a quest to find a recharg­ing device to take with me on the road and to have in the event of a SHTF of any kind. I want­ed a bat­tery device that could recharge my mobile phone or pad device sev­er­al times if the pow­er were out, or in the event I found myself on the road with a dead phone, and need­ed a charge when not in the prox­im­i­ty of an elec­tri­cal out­let. Enter a bunch of research, a lot of reviews. Quite acci­den­tal­ly I came across the Anker Astro.
So what is the Anker Astro? For all intents and pur­pos­es it's a portable bat­tery with two USB ports for recharg­ing your devices. More specif­i­cal­ly, it is a back­up bat­tery device to help you recharge your phone up to five (5) to sev­en (7) times before it needs recharg­ing itself. Now, dur­ing Hur­ri­cane Sandy, this would have come in handy had I known about it, and allowed me to keep my phone on for longer peri­ods. Look­ing at it from the pure mar­ket­ing per­spec­tive of up to sev­en (7) recharges would have allowed me to recharge my phone from emp­ty for the entire­ty of my peri­od I had no pow­er. Accord­ing to the mar­ket­ing it also touts the abil­i­ty to recharge, Kindle's, iPads, and Android pads, etc.
When I received it (after order­ing it), I of course, made sure it was ful­ly charged, and pro­ceed­ed to recharge my phone. Which it did flaw­less­ly. I've used it peri­od­i­cal­ly since, and it only dawned on me that this might be an impor­tant device for prep­pers today, weeks after own­ing the device. I say this because, being in an urban and sub­ur­ban envi­ron­ment, I find my CB to be use­less. Ham on the oth­er hand is some­thing I am still work­ing towards (call me lazy), but it's on the to do list. How­ev­er, until that point, I depend on my phone for com­mu­ni­ca­tions in three forms: Email, SMS, and Voice. As long as the tow­ers are up, and run­ning, I'll con­tin­ue to depend on it. This means that pro­long­ing my bat­tery life is very impor­tant to stay in touch with my busi­ness and per­son­al net­work both day to day, and in the event of an emer­gency.
So, here are some tech­ni­cal spec­i­fi­ca­tions for those of you won­der­ing about the Anker device itself:
Mon­ster capac­i­ty (15000mAh) charges the iPhone almost 7 times, large-capac­i­ty phones like the Galaxy S4 4 times or almost a full charge to an iPad 3,
Super-fast charge out­put (5V / 3A total) through dual USB ports (5V / 2A and 5V / 1A) allow for simul­ta­ne­ous charg­ing of your iPad, iPhone, Android, and more at high speed,
Smooth, ivory var­nish allows you to pow­er up in style, while 4 sta­tus LEDs keep you informed of remain­ing capac­i­ty. Built-in flash­light for dark or low-light envi­ron­ments,
Ultra-high den­si­ty bat­tery cells make this the world's most com­pact 15000mAh exter­nal bat­tery. Use a 5V / 1.5A adapter (not includ­ed) for fastest charg­ing (9–10 hours),
Pack­age con­tents: Anker® Astro E5 Exter­nal Bat­tery, Micro USB cable, trav­el pouch, instruc­tion man­u­al.
It was the most pow­er­ful bat­tery I could find with the longest bat­tery life. Here's an addi­tion­al review I found that actu­al­ly helped me make the deci­sion, and one that is MUCH more detailed than one I can actu­al­ly give.
I may, at some point, pur­chase anoth­er that I may keep in a fara­day cage, as it can be used with many dif­fer­ent devices, and may come in handy in the future… I like the device, and keep it in my back­pack that pret­ty much goes every­where with me. It would make a great addi­tion to a Get Home Bag.