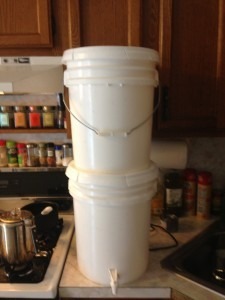 As far as I am concerned, this project has been well overdue.  Especially in the wakes of both hurricanes Irene and Sandy.  With hurricane season just barely upon us, and the loss of power, etc. last year, I thought it was time to prepare a bit for what might be to come.  In hindsight, this project was SO easy, and relatively inexpensive, I am surprised at myself as to why I waited so long to do it.  I think it's because I already have some water storage.  Which reminds me, I have to dump the old water and replace it with new as it's been just about a year since I've stored it.  That will be the next project.
Like many before me, below you will find the steps I took and the products I used to build this project, and it only took me 20 minutes or less, and was just about a $70.00 – $75.00 project overall.  The bulk of the cost were in the Berkfeld 9″ ceramic replacement water filters that I purchased off of Amazon.com.
Last year I purchased about 20 food grade buckets and lids.  The lids need to be replaced with gamma lids or other lids to store food as they were cracked around the sides after being opened the first time.   I bought the buckets from a plat that had candy food flavoring delivered in them, so I know they are food grade.  I think I picked up the buckets and lids for $2.50 or $3.00 each.  A bargain in my book…  I simply washed them out with some bleach before using them.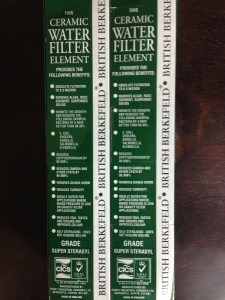 Everyone should do this, it was so simple.  Here were the steps I took:
I marked and drilled the hole for the faucet/spout.  I then mounted the faucet/spout with the rubber rings and the plastic nut that it came with.  This was a 3/4″ hole, and I used a 3/4″ bit and it worked perfectly.
After I did that, I placed the lid that the top reservoir/bucket it sitting on, turned it upside down.  I then drilled two 1/2″ holes that will hold the two Berkfeld 9″ ceramic replacement water filters in place.

I have read that the two Berkfeld 9″ ceramic replacement water filters will filter between 10 – 15 gallons of water per day.
I went with the Berkfeld 9″ ceramic replacement water filters because I had read a LOT of issues with the black Berkey ones being faulty.  Ceramic are considered to be sturdier as well… If you know different, please feel free to comment… 🙂
Note, that if you are worried about heavy metals, this filter will not filter out heavy metals.  Please do your research.  I am not worried about heavy metals as much as I am bacteria.
The Berkfeld 9″ ceramic replacement water filters were roughly $30.00 less than the Berkey black filters too.  Just sayin' $30 bucks is $30 bucks.  I paid $65.00 for the pair of filters.
And, how long will the Berkfeld 9″ ceramic replacement water filters last???  Great question…  I have also read that they will last (per set of two) anywhere between 2,000 and 3,000 gallons filtered through them, depending on how dirty the water you are filtering is.  Not too shabby for a short term disaster or one where you are stuck out somewhere until you can come up with a longer term plan…

Once my holes were drilled into the lid and the bottom of the reservoir, I inserted the filters and tightened them down with the wing nuts they came with.  I had to look up on the internet how to install the rubber washer that came with it.  Note it should be inside the top reservoir and the the filter should rest on it, creating a seal over the bottom hole.  This took me 20 minutes to find, and I hope it saves you some time…
Once the filters were tightened down, I put the top reservoir over the drain reservoir, tightened the lid as best I could, and filled the top with about five gallons of water.  It took a few minutes for the water to permeate the ceramic filters, but once it did, I could begin to hear the water dripping from the top filters.
Voila!  Water filter built.
There were some specific instructions on priming the filters, which I have included here (click to download).
Below, please find a few pictures of the steps I took to get from point A to Point B to create a system to help me have clean water going forward, whether I take this unit camping or use it for emergencies only.  I am probably going to buy another set of filters just to keep on hand.  While 2,000 – 3,000 gallons is a lot of water, we are, after all prepping…
Let me know what you think and what you use as a solution today.  Here are some of the pics, I promised.