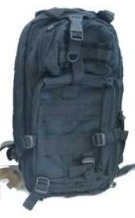 Well, as many of you know, about a week ago or so my "Get Home Bag" from my truck was stolen from the parking lot where I had been parking my car for two plus years.  In hind sight, I think it was my fault for assuming that there was ample security.  Rather, I became complacent.  Complacency, I think, will kill you in a survival situation, no matter how mild or extreme.
The truth is, I have felt a bit naked and unprepared without the bag in my truck.  I have been in NYC several times, the environment the bag was primarily designed for, as well as out and about in PA, and central NJ since it was stolen.
All of that said, I am planning on replacing the gear.  I have made a preliminary list below for you to peruse, and be sure to let me know what you think.
Total cost of the Get Home Bag as priced on Amazon: 482.75 (give or take $50.00 – $75.00 for sourcing better deals on the items)  This is probably within $75.00 of what I probably spent on the gear that went missing when it was stolen out of my truck.    Much of the gear I had assembled over time and was redundant camping gear I had, but calculating the replacement prices this morning was a reality check to me.  Sort of sucks, don't you think? This varies greatly from the conversation that I had with my friend Doug, about the cost of what went missing… I was off by about $275.00.  Shows you that you forget what you spend over time.
Some of this gear I already own today, and is redundant to what I have in my Bug Out Bag already, and has just been sitting around waiting for a use.  Some of it I have to order.  As you may gather, it is going to be some time before I order everything up I need.  I'll end up spending about $300.00 on gear.  The question, I need to ask myself is.  What of these items is ABSOLUTELY essential, and what can I do without to save money, and to still feel/be prepared to get home if I have to?
This was the preliminary list I put together this week… Next I make a futile call to Vista Parking to see where they got with the stolen items.  I can tell you where, before I even call, but need to do the follow – up anyway…