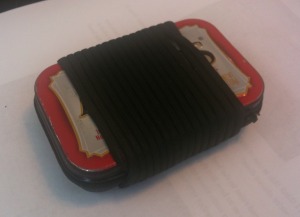 I carry an Altoid EDC Emergency Kit just about everywhere I go.  I have one that can get through airline security (no razor blade or knife, but it does have a fire steel and scraper in the kit that makes it through security with no issues).  The one I carry every day however has a razor blade, matches, fire steel, etc.
Here are the contents of my Altoids kit:
1 – Button Compass
1 Each – Salt & Pepper Packet
1 – Chicken Bouillon Cube
1 – Fire Steel
1 – Fishing Lure (this is in the kit in the event I cannot find bait and have to fish)
4 – Fish Hooks
2 – Birthday Candles
2 – Zyrtec (allergy medicine, because I have allergies)
1 – Immodium Pill (enough said)
1 – Sudafed Cold & Flu Pill
4 – 200mg Advil Pill
1 – Packet Antibacterial Ointment
1 – Antiseptic Pad Packet
3 – Waterproof Bandaids (CVS Brand)
1 – Quart Ziplock Freezer Bag (folded)
2 – 1 Square Foot Heavy Duty Aluminum Foil (cooking, purifying water over a fire, signaling)
1 – Razor Blade
5 – Strike Anywhere Matches – Wax Covered (hand dipped)
2 – 24″, 45lb test steel fishing leader to be used as snares
25′ Waxed dental floss string (Very strong)
25′ Sewing Thread
10′ Duct Tape
2′ of Electrical Tape wrapped around the outside of the Altoid Tin, sealing it from the elements and water
10′ 550 Paracord (seven strand) wrapped around the exterior of the Altoid Tin.
I built the kit based on my needs.  This is really bare bones, as well.  If, with luck, I am ever stranded in the wilderness, this kit would allow me to have a few creature comforts easily, such as fire, spice up a bad meal, more easily find direction, find a protein rich meal, hold water, cook, etc.
I am of the opinion that everyone should look at their own needs and requirements and build an EDC kit around that, and not mimic someone else's kit.  I also carry it for the psychological benefit of feeling more prepared that if I went out into the forest with just nothing.  Making a bow drill, and using it looks simple enough, but have you ever tried?  A fire steel and matches are always more helpful when you need them.
I also keep an inventory list with the kit at all times so that I  can remember what is in the kit if I need to open it up.  It rarely gets opened.  Maybe once a year to retrofit it with a new item or to taken an item out based on my needs and requirements.  The last time I changed out some of the contents was spring 2010, and will probably do so again next spring if I feel the need or desire.