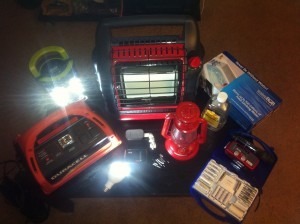 This is my (Sub­ur­ban's) slight­ly over­due post­mortem of Hur­ri­cane Sandy. It's Thanks­giv­ing day as I write this, and I want to say thank you again to all of you, my read­ers, as well as a Hap­py Thanks­giv­ing to you and your fam­i­lies. My thoughts this hol­i­day week­end are with those who's homes and lives have been for­ev­er changed by the hur­ri­cane a few weeks ago.
It's no secret that many are still with­out pow­er, heat, etc. from Hur­ri­cane Sandy and the Nor'east­er that just came bar­rel­ing through the North­east­ern Unit­ed States. For what it is worth, I was affect­ed much less than oth­ers in the NY and NJ areas that were dev­as­tat­ed by the storm. In fact, I am almost embar­rassed to dis­cuss it, but think it is impor­tant to con­vey what worked for me, and what I lacked that could have been more help­ful. How­ev­er, I was with­out pow­er for almost five days, and I found that I had more than a few prod­ucts that help make my life eas­i­er over the week, and I want­ed to share them with you. There were more than a cou­ple…
You will prob­a­bly notice sev­er­al pieces of gear ded­i­cat­ed to light­ing. I do not under­es­ti­mate the require­ment for light. Since much of what we do is done dur­ing dusk or when it is dark out light­ing is both a con­ve­nience and a psy­cho­log­i­cal asset dur­ing an emer­gency, that I liken to hav­ing a camp­fire.
Over­all, I thought I was pret­ty pre­pared for shel­ter­ing in. With the nat­ur­al gas not down, I did­n't have to wor­ry about using my grill (although I did), and could con­tin­ue to use my stove to cook. I took it upon myself to play with some
Ban­nok recipes
and fry up some Ban­nock Bread with my eggs. Oh man was it good.
Areas that were chal­lenges, were procur­ing gaso­line for my car. I was not pre­pared for a gaso­line short­age. That is chang­ing as we speak. Procur­ing ice for my cool­ers was also a chal­lenge. That is where the gen­er­a­tor is going to come in. Keep­ing the refrigerator/freezer up and run­ning a lit­tle longer and peri­od­i­cal­ly run­ning the gen­er­a­tor would have been very help­ful… I lost a lot of fish in the freez­er, and a bunch of stuff in the refrig­er­a­tor. With win­ter com­ing, and a frag­ile grid infra­struc­ture already, those are
preps
that will be accel­er­at­ed…
I hope this helps some of you that are prepar­ing for what­ev­er it is that you are prepar­ing for. I did not expect to be shel­ter­ing in myself, because most of my plans are (were) to
bug out
, in the event of an "event" of sorts. I real­ize now that I can­not nor would it always be prac­ti­cal to bug out. What are your thoughts on all of this…