Back from another trip to the camp site, I had occasion to put a couple pieces of gear to use this weekend.  One of which i use regularly and the other that I recently acquired that I've been looking forward to using.
Gerber Camp Axe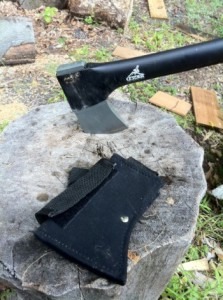 First, I carry my Gerber Camp Axe in my truck all the time, just in case I want to hit the road camping, it doubles as gear for the Get Home Bag, and if I have to Bug Out, I always know where to find it, and if I Bug Out in the truck, I don't have to worry about forgetting it.  Second, I simply love this axe for camping.  A few of the specifications:
It weighs just about 2 1/2 pounds
The handle is 18″ long and made of a strong polymer material
The head is carbon steel and come out of the box pretty sharp.
When I picked up this camp axe about 18 months ago, I debated between it and a hatchet.  I opted for the Gerber Camp Axe, and I am glad I did.  The 18 inch handle allows me to get a pretty good full swing to cut down fire wood that we have previously cut up with the chainsaw.  The head is heavy enough to go through the logs in one good swing most times.  The 18″ length, to me, is the perfect halfway point between a hatchet and a full length axe.  The handle which is a fiberglass polymer mix has little to no vibration and feels like it is indestructible.  I have used the back side of the head as a hammer and to hammer in my tent stakes.  It has taken care of most of the small to medium camp jobs I have needed it for.  I would not hesitate to use it to take 3″ -4″ logs/trees if I had to in order to build a shelter.  The only thing I can say that might be an improvement is to texture the handle.  While it has not slipped out of my hand I can see that if you start sweating while chopping or the handle gets wet, I can see it slipping out of my hand, potentially. Maybe not, however.
Oh, and it also comes with a great Ballistic Nylon sheath that is very well built. I lost it once, called Gerber to buy a new one, and they sent it to me completely free. I thought that was awesome customer service!
In all, I really like this camp axe.  I can certainly see strapping to my backpack to go do some serious hiking, camping, or Bugging Out.