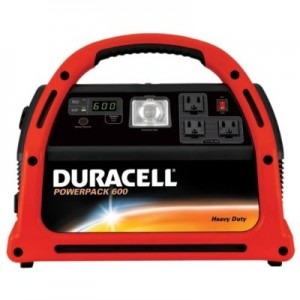 I recently purchased the Duracell Powerpack 600 (This now actually links to a new but similar product).  It's powered by a rechargeable 28AH battery and provides up to 600 watts of AC power. This device is primarily designed as and for jump-starting cars but has several great features.  I purchased it primarily as a portable renewable energy source for my apartment or to go camping with.  From the descriptions I have read, it seems this (to me) is a mini battery-powered generator.  With three AC outlets and one DC socket at your fingertips, the 600 is the right power solution for people with demanding applications or the need to run multiple loads simultaneously. Perfect for power emergencies, this portable backup power powerpack includes an AM/FM radio with a digital alarm clock to keep you connected, built-in emergency light, jumper cables that unplug from the device itself so they do not get in the way when you do not need them, and
enough power to jump-start a car, truck, boat or small RV.  The instructions say that it is good up to a V8 for jump-starting a vehicle.  Not too shabby.  I looked at several designs, including the Wagan Power Dome EX.  I chose the Duracell primarily for the reviews.  The reviews of the Power Dome EX were all over the board and the Duracell reviews I read were consistently good across the board.  To boot, for a few more dollars you get your hands on a 600 Watt device vs. a 400 at device delivering a longer-lasting load to your devices.
Powerpack 600 Description
Heavy-duty Duracell Powerpack 600 delivers 600 watts of portable AC power with vehicle jumpstart, AM/FM radio, and digital alarm clock.
Powered by a rechargeable 28AH battery, the Duracell Powerpack 600 provides up to 600 watts of AC power. It can jump-start a car, truck, boat, or small RV. The system also operates a wide range of DC products. Ideal for power emergencies, Duracell Powerpack 600 comes with a built-in emergency light and jumper cables. Integrated AM/FM radio and digital alarm clock provides access to music, talk radio, and news. Whether it's a job site or a campsite, the Duracell Powerpack 600HD is the ideal portable backup power solution.
Features
Runs 115-volt AC (3 outlets, 480-watt continuous)
Runs 12-volt DC (1 outlet)
Built-in 600 watt inverter
Sealed, non-spillable 28 amp-hour AGM battery
AM/FM radio
Digital alarm clock
Jumper cables designed for safe and efficient jump-starting
Built-in light provides illumination in emergency situations at home and on the road
The 3-digit display allows for easy battery status monitoring
Audible alarm signals overheat and under-voltage conditions
Overload and over-temperature protection to ensure longer inverter life
Recharge at home or from a vehicle
Accessories
Jumper Cables – use Duracell Powerpack 600 to jump-start your vehicle
AC Charger – recharge Duracell Powerpack 600 from a standard wall outlet
DC Charging Cable – recharge Duracell Powerpack 600 from your car, truck, boat, or RV –
I am buying a 15 Watt solar panel to connect to the DC input.  With the built-in overcharging regulator, there is no chance I will overcharge the device.  I was just at Harbor Freight.  Once I get this setup and test it, I will write another review of the Solar Panel and connection to the Powerpack 600.
Accessory bag
Applications
For Emergency Situations:
Jump-starts vehicles
Charges cordless and cellular phones
Powers emergency light, TVs and radios
Provide access to news radio and emergency broadcast
For Indoor & Outdoor Applications:
Runs small power tools
Powers camcorders, video games, stereos, 13" TV/VCR combos
Runs hand-held blenders, fans, computers, laptops, clock radios
For Outdoor and Indoor Applications:
Jump-starts vehicles
Charges cordless and cellular phones
Powers emergency light, TVs and radios
Provide access to news radio and emergency broadcast
I have been playing with the Duracell Powerpack and it seems like a solid unit.  It is 12lbs, but the handle makes it easy to move around, and throw in the back of my truck if need be.  What they do not tell you is that it takes about 30 hours to recharge being plugged in.  So you need to be careful what you plug into it.  I wouldn't run the microwave or a toaster oven if you want my personal opinion.  However, I would run some low wattage lights, recharge my
iPhone
, or other small devices, and turn the unit off when it is not in use or keep it charging on the solar panel…
The caveat, I think, because of the type of device it is, an
EMP
may take it out, so I may build some kind of Faraday box for it, and several other pieces of
gear
that I have.  That alone is another post, I believe…
How many of you have something like this or a solar panel,
deep cycle battery
, and DC/AC inverter to run small devices in a power outage?