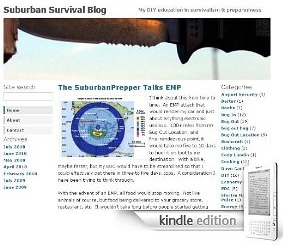 Well, you no doubt have noticed a change in scenery here at the Suburban Survival Blog.  I have updated the look and feel, several images, as well as the widget that allows people to post to social media sites to allow others to benefit from what I post here.  This theme also allows me more control over the images used and where they are used in my posts, which I was getting a bit annoyed with.  Next I will be making some additions to the "About" page of this blog as well.
I hope you enjoy the new look and feel, and I will try to keep the blog fresh and clean so it is easy to navigate for you.  This is certainly an evolution, and I would like to make it a great experience for you the reader as I share what I am thinking and learning.
As always, I welcome any comments.  I also have thought of adding a top four or five "most popular posts" post at the beginning of every month that would let you, the readers and contributors know what were the most popular subjects in the previous month.  Personally, I find it interesting to watch what people are reading about, and it gives me ideas what to write about next.
For the record,  in order, the top four posts for July 2010 were as follows:
I hope you like the new format, and feel free to comment on anything you wish.