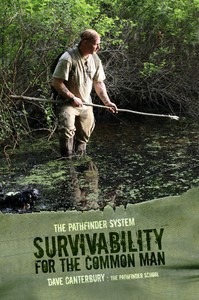 Well, the bonus factor for the day is, that Dave Canterbury's book, "The Pathfinder System, Survivability for the Common Man" just arrived in the mail (working from home has its advantages).
From the time I heard a snippet about Dave's new book on the Survival Podcast several weeks ago, I knew I wanted to place an order.  Well, it just came, and I am going to start reading it this week, and will put up a review of it when I am through.  At first glance, it looks well documented, clean pictures, and is about 160 pages long.  The bonus, I turned the book over to see what might be on the back cover, and the book was autographed by Dave!  Nice personal touch, that, to me, says a lot about the man himself.  He clearly appreciates the support from his fans, and I like that in a person.
Thanks Dave, and I look forward to reading about the Pathfinder philosophy for the common man.