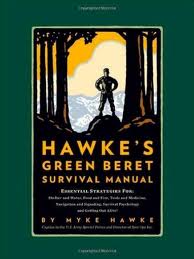 Okay, I just saw something on the Discovery show Man, Woman, Wild I thought was pretty cool…  I am sure this is not good for the long term, but for a short term survival situation, pretty cool.
I am a fan of Myke Hawke.  I have his book "Hawke's Green Beret Survival Manual."
I just saw Myke boil water in a plastic bottle over a fire.  Now, keep in mind I'm no physics professor, but by keeping the water and bottle far enough away from flame allowed the water to keep the bottle cool enough not to melt the plastic, and in a short period of time, the water boiled killing the parasites, etc. in the water.
Curiosity got to me so I did a little Google search and here is what I found:
———-
Please register with the Suburban Survival Blog today for contests and give aways today! Click Here To Register Now!
Don't forget to check out our sponsors and affiliates located to the right. They work hard to make sure the products you want are available when you want or need them for your preps.
Check out Suburban Survival Blog Daily.
Suburban