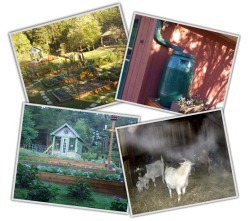 Please take a moment and welcome Ready Made Resources to the Suburban Survival Blog family.  Many of you may already be a customer of Ready Made Resources or have heard of them.  Below is a bit more information about them, and you will see their advertisement to the right.  They have been gracious enough to sponsor our blog, so please visit them by clicking the Will You Survive the Aftermath ad to the right.
At Ready Made Resources, we can help you accomplish all three! Whether it's setting up a complete grid-tie or non grid-tie solar system, getting back to the basics of homestead living, or preparing you for unexpected emergencies, we can help supply you and your family with the provisions for making that possible.
With over 16 years of experience, Ready Made Resources stands "ready" to assist you. Our knowledgeable and friendly staff is eager to answer any of your technical questions about our products, assist you with customer service issues or equip you with a plan to help preserve your family tomorrow.
We also believe in the products we sell. Anyone can market their products, but at Ready Made Resources, we actually utilize the products we sell! In fact our storefront – sitting on a scenic, 25 acre parcel in the heart of the Smoky Mountains – is presently co powered by solar and wind energy. We are one of the largest dealers in the nation of all major solar products, including Outback, Xantrex, and Sharp & Sunnyboy. And we strive to offer the lowest prices available on the web.
In addition, we carry a complete line of other affordable products – everything from hand powered grain mills, well pumps and water filters to long term food storage, camping supplies and cold weather gear. Check out the variety of our website categories and see for yourself why our selection is unsurpassed! Thank you for your interest in Ready Made Resources. We look forward to making you another satisfied customer.