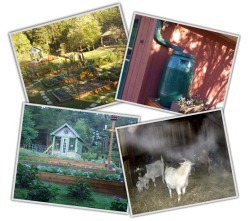 Please take a moment and wel­come Ready Made Resources to the
Sub­ur­ban Sur­vival
Blog fam­i­ly. Many of you may already be a cus­tomer of Ready Made Resources or have heard of them. Below is a bit more infor­ma­tion about them, and you will see their adver­tise­ment to the right. They have been gra­cious enough to spon­sor our blog, so please vis­it them by click­ing the
Will You Sur­vive the After­math
ad to the right.
At Ready Made Resources, we can help you accom­plish all three! Whether it's set­ting up a com­plete grid-tie or non grid-tie solar sys­tem, get­ting back to the basics of home­stead liv­ing, or prepar­ing you for unex­pect­ed emer­gen­cies, we can help sup­ply you and your fam­i­ly with the pro­vi­sions for mak­ing that pos­si­ble.
With over 16 years of expe­ri­ence, Ready Made Resources stands "ready" to assist you. Our knowl­edge­able and friend­ly staff is eager to answer any of your tech­ni­cal ques­tions about our prod­ucts, assist you with cus­tomer ser­vice issues or equip you with a plan to help pre­serve your fam­i­ly tomor­row.
We also believe in the prod­ucts we sell. Any­one can mar­ket their prod­ucts, but at Ready Made Resources, we actu­al­ly uti­lize the prod­ucts we sell! In fact our store­front — sit­ting on a scenic, 25 acre par­cel in the heart of the Smoky Moun­tains — is present­ly co pow­ered by solar and wind ener­gy. We are one of the largest deal­ers in the nation of all major solar prod­ucts, includ­ing Out­back, Xantrex, and Sharp & Sun­ny­boy. And we strive to offer the low­est prices avail­able on the web.
In addi­tion, we car­ry a com­plete line of oth­er afford­able prod­ucts – every­thing from hand pow­ered grain mills, well pumps and water fil­ters to long term food stor­age, camp­ing sup­plies and cold weath­er gear. Check out the vari­ety of our web­site cat­e­gories and see for your­self why our selec­tion is unsur­passed! Thank you for your inter­est in Ready Made Resources. We look for­ward to mak­ing you anoth­er sat­is­fied cus­tomer.