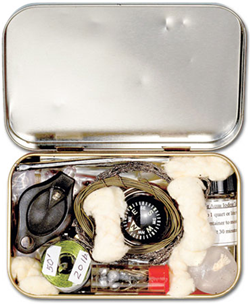 So as a matter of explanation, I am going to list what I use for my EDC.  Keep in mind my EDC is banging around Northern New Jersey most of the time, and in PA and NY states on weekends some of the time…    I designed my EDC basically around what I think I would need to have in a pinch.  Most everything is pushed into an Altoids tin with the exception of  of a Gerber paraframe folding knife, a paracord bracelet (unraveled provides 10′ of paracord in a pinch, and a zippo lighter that I carry pretty much everywhere I go.  I also have a separate EDC Altoids kit I carry when I travel for business that is built to go on a plane with me and get through TSA Security without any issues.  I am putting prices next to each one so that you can see how inexpensive it is to create one for yourself.  This one I carry in my day pack:
Altoid kit EDC Kit
1 – Button Compass – $.99
10 – iodine tablets to disinfect 1.25 gallons of water (two tablets disinfects one quart)
1 Each – Salt and Pepper Pack (Fast Food Restaurant – Free)
1 – Chicken Bouillon Cube (Out of a $2.50 jar of bouillon cubes, so the cost might be $.10, and I like a little flavor if I have to make a soup or sauce in the bush)
1 – Firesteel – From Firesteel.com for 1.99 (I bought 10 of them when I bought them)
1 – Rubber fishing lure (Free out of my fishing tackle)
4 – Fish hooks (free out of my fishing tackle)
2 – Birthday candles – (Free out of a box of birthday candles, to help start stubborn fires, for light for short periods or to waterproof something)
2 – Zyrtec tablets (Free out of a bottle of Zyrtec, and invaluable 24 hour relief from my allergies)
1 – Immodium tablet (Free from a bottle of Immodium, and for obvious reasons, I would think)
1 – Sudafed Cold & Flu Tablet (Free from my box of Sudafed)
4 – 200mg Advil Tablets wrapped in aluminum foil (Free from my bottle of Advil)
1 – sealed antibacterial ointment packet – $.80 from a package of them I bought at REI
1 – Sealed alcohol swab
3 – Band aids
1 – One Quart plastic freezer bag with double seal – For gathering water or filling with vegetation and creating a solar still out of so that I can extract water from plants in the bush
2 – folded 1 square foot of heavy duty aluminum foil for creating ad-hoc cooking tools
1 – razor blade
5 – wax covered strike anywhere matches wrapped in aluminum
25′ – 6 lb test fishing line
25′ – waxed dental floss (this stuff is strong as hell if you need to lash something quickly without tearing down some paracord.
25′ – sewing thread
3 – sewing needles
12′ duct tape – cut into 3″ strips and layered one over the other and then taped to the inside lid of the Altoids tin
2 – 24″ 45lb test steel fishing leaders to be used as snares.  – $2.50 at Sports Authority (I buy them in lots of 10 when I buy them, as they store in VERY little space.
2′ electrical tape sealing the Altoid tin closed keeping out the moisture.
10′ 550 Paracord – wrapped around the outside of the altoid tin.
4 – cotton balls for tinder and to keep things from shaking around
Without taking into consideration the cost of the bulk goods, if this kit cost me $7.00 to put together that is a lot of money.  Again, it is built around my needs and is less generic than those you can buy in the store.  If you are building an EDC kit, I urge you to build one based on the needs and requirements you may have for yourself and not build something too generic.  I will get into my "carry on" EDC kit in another post…