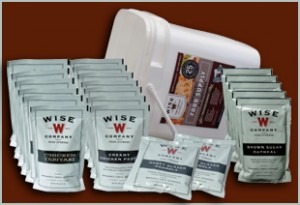 Welcome Ineed2Prepare.com to the SuburbanSurvivalBlog.com Family.  To welcome them, we are running a contest to give away an 84 meal Grab & Go bucket of gourmet meals.  What you will get from Ineed2Store.com if you win is below, but first, here are the parameters of the contest:
The contest will run from Today, April 25th 2011 – Sunday, May 1st, 2011 with the winner announced on Monday, May 2nd, 2011.
How do you enter?  Simple.  In "Twitter format," in 140 characters or less, fill out the Contact Us form here, with your contact information.  In the description area, in 140 characters or less (what I like to call Twitter Format) tell us why you should win the Grab & Go bucket.  Click Here to enter now.
As an FYI, this is a 179.00 value that will get drop shipped to you by Ineed2Prepare.com
Below is a full description of the product you will recieve:
Each durable, stackable bucket contains 84 servings of delicious dried food. 84 servings will feed 4 adults 3 servings per day for 1 full week. Shelf life of up to 25 years!
These Wise Foods Grab and Go Food Kits are perfect for any unplanned emergency, or for a quick meal when you're in a hurry. Just add hot water, stir and let sit for about 10 minutes. Don't have hot water? No problem, these meals will still rehydrate, though you'll have to wait a bit longer. Our ready-made meals are packed in airtight, NITROGEN PACKED, Mylar pouches, and then encased in durable plastic containers. Our unique packaging process removes residual oxygen through a nitrogen flush giving you a shelf life of up to 25 years.
Each bucket contains the following entrees. Each entree is sealed in a mylar pouch. Entrees are 100% Vegetarian, using TVP rather than meat. Each pouch holds 4 servings. Remember, that each 84 serving kit provides 3 servings a day for a week for 4 adults, or a 4 week supply for 1 adult!
Chicken Ala King (8 servings)
Stroganoff (8 servings)
Cheesy Lasagna (8 servings)
Creamy Chicken Pasta (8 servings)
Cheesy Macaroni (8 servings)
Chicken Teriyaki (8 servings)
Southwest Bean and Rice (8 servings)
Brown Sugar Oatmeal (12 servings)
Honey Glazed Granola (8 servings)
Multi-Grain Cereal (8 servings)