Admittedly, I missed the "center" of Hurricane Irene. Rather, I missed the heart of the storm. I made my way west to Pennsylvania, not to bug out, but to a good friends bachelor party.  The upside is that I was going to be west of Irene.  The downside, if there is one, is that (in some weird way) I wanted to experience the hurricane so that I could justify some of my preparations, such as water, power, food, etc.  That said in hindsight I am glad I didn't have to.
So what did I encounter.  Well, 100 miles west of where I live winds were still 50 – 60 MPH.  Rain came down in sheets.  Flooding was still prevalent.  Eastern PA still received almost six inches of rain on Saturday night.  I didn't get in my truck to head back east until about 2:00 p.m.  I had been corresponding via email with a neighbor prior to that.  He mentioned there was about a foot or so of water on the street, and that it was closed to traffic, except emergency vehicles.  By jumping in my car at 2:00 p.m. I figured I would take my chances with the 90 minute drive ahead of me.  What I didn't expect, however, were a few of the following events.
First, I-78 East in NJ was shut down at exit 43 because of flooding across the highway.  Traffic was backed up past exit 41.  Luckily, I was 1/10 of a mile from Exit 41 which was the exit for Route 22.  I thought this would be great, I could bypass the flooding.  So naive I am.  Route 22 was riddled with starts and stops because winds were still in the 40+ MPH range, and there were down trees all over the highway.  Start, stop, start, stop for miles.  My 90 minute trip home increased significantly.
The closer I got to home, the more side roads I had to take.  I immediately started noticing side road closures.  I wasn't really going slow enough to get a good glimpse of why.  I figured it might be flooding.  I got closer to home, and noticed trees leaning in more toward the road than they had the day before.  No doubt the wind helped move them more easily since the ground was saturated.  If you know much about large trees in a suburban environment along the street, many of them have very shallow roots.  I'm assuming that many of them will have to be cut down before the eventually just fall over onto a car or a pedestrian.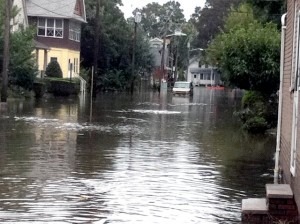 When I came down the main road to my house, I found the intersection near my apartment to be closed because of flooding.  I was turned away by the police sergeant with no direction how to get home.  Sigh.  I figured I could take a side road, and as I was slowly driving in the direction I had just come, I noticed a large number of people walking around. I figured the power must be out too, to have so many people just walking around, sort of aimlessly with their families, friends, etc.  I was now driving by a park near a very residential area about 1/4 mile from my home.  streets were again blocked and the roads looked like lakes with lake front homes right on the edge of them.  I asked someone how deep it was and she said that in some spots up to your chest.  In some cases it looked like it.  I continued taking turns where I could, and more street closures.  In once case, I came up to an intersection and there were some angry belligerent people arguing in the middle of the street and intersection.  I said to myself, "tensions are high already?  Please don't let me get sucked into this now, I just want to get home."  I eventually got by, but not before I thought I was going to see fists fly.  I was thankful that I was able to get by without someone taking anger out on my truck or me.
At that point, I was starting to get concerned.  What if I cannot get back to my apartment?  "All my preps are there," I thought to myself out loud, "Apparently this is a big hole, because I don't have anything cached anywhere."  Not that I needed anything immediately.  I took extra cash out of the bank, gone to a restaurant, bought some food, whatever.  I could have temporarily gotten a hotel room for the night.  I could have driven to my primary BOL, but that was two hours away.  I didn't want to do that.  I wanted to get home.  I continued driving around until I parked in a spot about 1/4 mile from my place.  It was the only free spot I could find.  I walked down to the police sergeant, told him I was trying to get to my apartment, and he suggested that I walk down and take a look but he thought it might be a couple feet deep.  I walked down to the intersection and found it  was about a foot deep, and that I could make it through.  I walked back to the officer, and asked if he would let me though.  He agreed when I explained I had 26″ of ground clearance on my FJ Cruiser.
When I finally got home, and my bag up to my apartment, I got the low down on the day.  The National Guard had been dispatched to evacuate the street perpendicular to mine as it was so flooded from one of the nearby rivers.  The picture here is that street and is only 300 – 400 feet from my front door.  The National Guard had been going back and forth all day.  I saw several Deuce and a half's and many Humvee's on the road since I had been home, and on the ride home.
Once home I learned a few things.  One the gas line could have been knocked out because of all the water, the power had been out a couple of times, and you could not flush the toilet for some time because the sewer was overflowing.
So what did I learn?
There were a couple holes in my plans that I immediately noticed that frankly never occurred to me when I had the moment to stop and think…
First, the Get Home Bag, may be no good if you cannot get home.  Your preps are no good if you cannot get to them.
Second, no matter how calm you are, some sort of isolated or not so isolated civil unrest can happen when you least expect it.  I guess tempers can flare quickly when you are slightly displaced from your normal lifestyle.
Third, I might have better served to shelter in so I didn't have to deal with trying to get home though street closures, flooding, etc.
Four, I need to stop putting off buying that porta – potty for the apartment, and just put it in the bottom of a closet in the event I ever need it.
Five, I wasn't too worried about food, power outage, water, cooking, hygiene (for the most part, see the porta potty comment above), entertaining myself, light in the evening, etc.  I was prepped.  It felt very good not to have to worry about those things if the power went out again, or if the gas went out…
What did concern me, however, is seeing the number of people out during the early evening, and wondering what kind of riff-raff might be out after dark in the event the power did go out again.    Would light from my LED lantern, or the
rechargeable lawn lighting
that I use for emergency lights.  I highly recommend them.
In the end, however, the flooding subsided, the street was opened, and life seems quite normal.  The river near my apartment crests tomorrow, so we will see what kind of havoc that wreaks in the next 24 – 48 hours.  Much of northern NJ is still under some sort of flood warning.
What I didn't see, and what I expected to see were CERT volunteers.  I didn't see any.  I thought that odd… In hindsight.