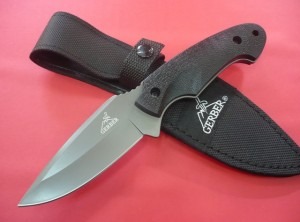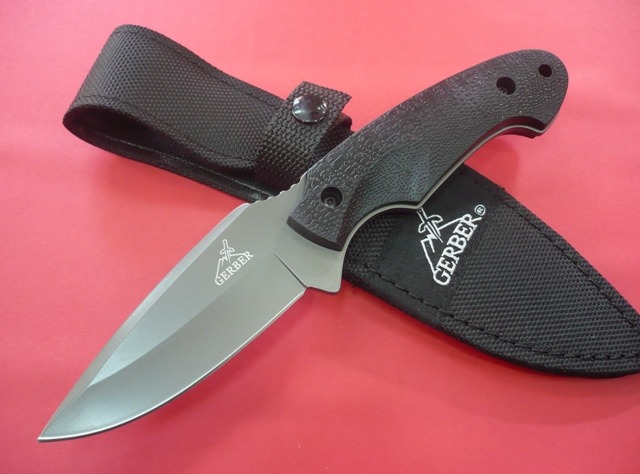 A couple years ago, I purchased a Gerber Profile Fixed Blade Knife Drop Point.  I generally take it camping with me, but have never thought of reviewing it.  In fact, I am not a knife afficiando.  However, I'm going to give it a shot here.
Like I said, I have had this knife for a couple years.  It generally comes camping with me, and to be quite on the up and up, it gets very light use.  however, this weekend, I strapped it on my waist.
First, a little history about the Gerber Profile.  One, I bought it for sub $20.00 at a big box retailer a couple years ago.  This blade has been reviewed numerous times on the Internet already.  Here is what I know.  I have purchased a Ka-Bar Marine Fighting Knife, a Ka-Bar Becker II, Mora Clipper, and numerous other knives over several years.  I have used each one for various tasks, less the Ka-Bar Marine Fighting Knife.  In hind sight, I may not have purchased that one.  It's utility is limit by comparison to several of the others I have purchased.
Now, for the Gerber Profile.  Here is what I like about it.  The full tang blade is thick and strong.  It was inexpensive, and you can continue to find them on Amazon.com and other online stores.  I like the special thumb area on the spine of the full tang blade.  It makes it more versatile and gives additional leverage when using the knife.  The rubberized handle is comfortable and my forefinger fits comfortably around the handle.  There's a lanyard hole in the handle as well…  As far as balance, the handle is a bit heavier than the blade itself.  It holds an edge well.  I used it for some heavy baton work this weekend while camping, and verified the edge held well… It seems to be a good all around camp knife.
Now for what I don't like.  If you read any of the reviews of this knife, many of them will discuss the sheath being kind of flimsy.  It seems to be a little flimsy to me as well.  I am no expert, but I can see why so many people mentioned that with daily use it fell apart.  But for $20.00 what can you expect?  I would like to find a place to purchase a Kydex sheath at some point as it would be much more durable for years to come.  The second thing that I didn't like, was that the blade is coated in that "Gerber coating" that will not let the spine of the blade spark a fire steel.
The upside.  It is light on my hip when strapped on, not like some of the other knives I have.  I barely know it is there, and can wear it all day.  Make sure the handle is buttoned in with the strap that holds the knife in the sheath, otherwise you might lose it in the field.
Finally, I think that this is a good knife for both camping and for light hunting tasks.  I am not sure how well it would perform dressing game such as a deer, or other large animal, but am sure it would be fine for small game such as rabbit, squirrel, etc.