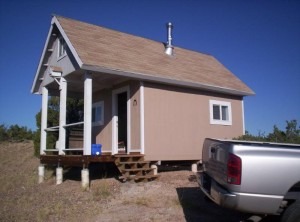 So, after hav­ing a con­ver­sa­tion with a cou­ple of prep­pers this week, I decid­ed to put togeth­er a list of
gear
in no par­tic­u­lar order around what you should have at your
Bug Out
Loca­tion. Recent­ly I have been chat­ting with a lot of peo­ple around this, and it seems to me that while your
preps
are impor­tant, if there is a VERY long term event, such as what has recent­ly tak­en place in Japan, even­tu­al­ly you will run out. You have to be pre­pared to be more self suf­fi­cient and self reliant. But more posts on that lat­er. For the moment, here we have the list of gear, at a min­i­mum you must have (in my opin­ion) at your
BOL
or fall back loca­tion.
Boots (Two Pair)
Socks (Wool/Cotton, Min­i­mum of Six Pair of Each)
Gloves (Leather with wool lin­ers, two pair, Nomex, etc…)
Under­wear
BDUs (OD or Dig­i­tal) — Option­al
Eye pro­tec­tion
Under­wear / Long Under­wear
Water­proof Pon­cho / Lin­er
Field Jack­et & Lin­er
Sleep­ing Bag suit­able for weath­er con­di­tions
Sleep­ing pad
Boonie Hat
Head Net for mos­qui­toes, bugs, etc…
Fire Start­ing kit(s)
Back­pack (Alice or oth­er)
Entrench­ing Tool
Rifle
Shot­gun
Pis­tol
Holster(s)
Ammu­ni­tion
Com­pass
Flashlight(s)
First Aid Kit
Util­i­ty Knife/Mul­ti-tool
Var­i­ous knives, such as hunt­ing knives, machete, etc.
Per­son­al Hygiene kit
Tent/Personal Shel­ter
Stove (Ster­no, Hobo, Tri­ox­aine, etc).
Rope (25 – 50 foot length)
Roll of 550 para­cord
Radio
Binoc­u­lars
Insect repel­lent
Mess Kit
Two Can­teens
Can­teen cup
Water purifi­ca­tion sys­tem
Pre­scrip­tion drugs, antacids, vit­a­mins, etc…
Watch / Clocks
Mon­ey – Enough mon­ey to invest in addi­tion­al sup­plies includ­ing med­ical, ammu­ni­tion, food, sup­plies
Food – Min­i­mum of one year sup­ply per per­son. My the­o­ry behind this is that if you are in a VERY long term sit­u­a­tion that you will have to pro­cure pro­tein and oth­er sources of sus­te­nance with­in the year you are liv­ing off your preps. Such as:

Raise Chick­ens
Raise Rab­bits
Raise goats
Raise Cattle/Cows
Plant an ample gar­den based on the num­ber of peo­ple in your fam­i­ly

Canning/Jarring equip­ment and sup­plies
Com­mu­ni­ca­tions – FRS/GMRS, AM/FM/SW, Scan­ner, CB, HAM (Min­i­mum of two of the men­tioned and at least one receiv­er)
Basic tools

Saw
Ham­mers
Axe
Sledge Ham­mer
Shov­els
Plan­er

Library of books you feel you want and or need to keep you enter­tained and learn­ing while you are there.
Maps (road and topo­graph­i­cal)
Help me out here. What did I miss?
Oh, and I pur­pose­ful­ly kept items off of here such as 1000 rounds of ammo, hel­met, etc… I want­ed to focus pri­mar­i­ly on nat­ur­al dis­as­ter pre­pared­ness here, but keep in mind regard­less of the sit­u­a­tion, you may have to be pre­pared to defend your posi­tion, fam­i­ly, gear, and preps… Enough on that for now, how­ev­er.