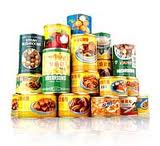 Ide­al­ly, you replace one can of some­thing with two cans of that same some­thing when you use it and you are rotat­ing your
preps
. Late­ly, I have been a bit lazy think­ing I have had enough, but I real­ly do not, and if you read
Fri­day's post
, clear­ly my head is spin­ning about what to do… After post­ing last evening, I threw togeth­er a list of addi­tion­al items I want to add to my preps to either replace or add to what is already there. Here is what I have come up with. I hope this helps fill in some of your own gaps.
Preps
Soups (Canned) — Cost­co / var­i­ous
Stew (Canned) — Cost­co
Canned Pro­tein — Cost­co — Chick­en / Tuna
Cof­fee — Cost­co (a cou­ple pounds at the very least)
Canned fruit — Cost­co
Apple cider vineger — A cou­ple gal­lons at least
Sea salt — 5 LBS??
Kosher salt — large box (Qty 2)
Pow­dered milk (Sev­er­al Box­es)
Gatorade (Pow­dered)
Iced tea mix (Two large con­tain­ers, Pow­dered)
Tang (Two large con­tain­ers, Pow­dered)
Rice (White)
Beans — canned
Beans — dried
Beef bouil­lon — large — Cost­co
Oat­meal — large con­tain­er
Flour* — whole wheat and white
Sal­sa
Ketchup
Canned toma­toes for sauce
Pas­ta
Hot choco­late
Choco­late syrup
Molasses
Canned veg­eta­bles**
Crisco short­en­ing
Canola Oil
Laun­dry soap
Pan­cake mix / reg­u­lar and whole wheat
More toi­let paper
More paper tow­els
More Med­ical sup­plies
Hot sauce — make any­thing take good.
Oth­er preps (Not core for com­fort and )
Vod­ka and oth­er booze (cheap) for barter, and oth­er uses
Beer — Barter, con­sump­tion, etc.
Can­dy bars, bags of choco­late can­dy
Hard can­dy
Pro­tien bars
Lowes
5 — paint buck­ets with lids
Pad locks
Box for patio/deck to store items out­side of apart­ment that are tak­ing up space
Online
Har­mo­ny house foods

Dried veg­eta­bles
Soy Pro­tein prod­uct

Moun­tain House foods
More seeds for gardening/farming
* Some of you might get on me for this one instead of buy­ing grains, but there is not a ton of room in the apart­ment, and I use the flour over time and rotate it out.
** Maybe, as I am look­ing into pur­chas­ing a dehy­dra­tor and dehy­drat­ing my own veg­eta­bles instead of buy­ing them. I can pur­chase them at the gro­cery store and do it myself for a frac­tion of the cost… The dehy­dra­tor could pay for itself in no time at all…
This is an expen­sive list to "add" to what I already have. How­ev­er, if I want to accel­er­ate my prepa­ra­tions, I feel like I have to add to it quick­ly. I just do not feel like I have enough. Next ques­tion, tak­ing a look at the finan­cial sit­u­a­tion and can I do this all at once or over the next three months???