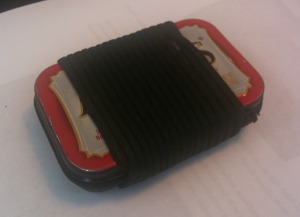 One of my buddy's asked what I bring with me when I travel on business.  I made a small video for him from my iPhone, but I thought I would publish contents of the Altoid kit that gets on the plane with me every time I fly.  It is TSA friendly, but lacks a blade of any kind, and lacks a way to make fire.  The two things the TSA would frown on and confiscate, yet has what I would consider travel related items that would allow me to be a bit more comfortable in an uncomfortable situation as I "should" have the gear that I put in my checked baggage when traveling.  I always check a bag, as there is usually some preparedness item in the luggage that would not make it on the plane with me, such as a lighter and a pocket knife. That said, my "carry on Altoids tin/kit" is as follows:
1 – One quart plastic freezer bag,

2 Square feet of heavy duty aluminum foil
3 – Zyrtec antihistamine allergy tablets
3 – Altoids (takes the place of one piece of candy)
4 – 500mg Tylenol tablets
1 – Antiseptic towel
1 – Bouillon Cube
1 – 24 Hour Sudafed cold & flu tablet
1 – Each Salt & Pepper packet
1 – Button compass
3 – Needle and thread
25′ – Waxed String (Dental Floss)
3 – Safety Pin
2 – 4′ Steel 45lb Fishing Lures (to be used as snares if necessary)
8 – Iodine tablets to purify water
1 – Imodium tablet
1 – Tea bag (Earl Grey)
3 – Cotton Balls
3 – Band Aids
12″ – Duct tape cut into 3″ strips, stacked, and stuck to the inside of the lid
2′ – Electrical tape wrapped around the outside of the Altoid kit to seal it shut and have the tape for use
10′ – Paracord wrapped around the Altoid kit tightly.
There are certainly items that I might want in there, but they just would not make it on the plane.  I do have another kit that is for everyday EDC with a way to make fire and cut inside of it, however.  As for the picture, I have used this in another post, but all my Altoid kits look the same, but are labeled differently…
———-
Please register with the Suburban Survival Blog today for contests and give aways today! Click Here To Register Now!
Don't forget to check out our sponsors and affiliates located to the right. They work hard to make sure the products you want are available when you want or need them for your preps.
Check out Suburban Survival Blog Daily.
Suburban