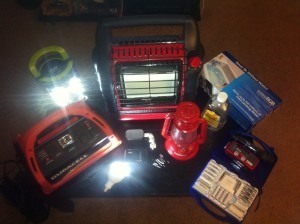 This is my (Suburban's)  slightly overdue postmortem of Hurricane Sandy.  It's Thanksgiving day as I write this, and I want to say thank you again to all of you, my readers, as well as a Happy Thanksgiving to you and your families.  My thoughts this holiday weekend are with those who's homes and lives have been forever changed by the hurricane a few weeks ago.
It's no secret that many are still without power, heat, etc. from Hurricane Sandy and the Nor'easter that just came barreling through the Northeastern United States.  For what it is worth, I was affected much less than others in the NY and NJ areas that were devastated by the storm. In fact, I am almost embarrassed to discuss it, but think  it is important to convey what worked for me, and what I lacked that could have been more helpful. However, I was without power for almost five days, and I found that I had more than a few products that help make my life easier over the week, and I wanted to share them with you.  There were more than a couple…
You will probably notice several pieces of gear dedicated to lighting.  I do not underestimate the requirement for light.  Since much of what we do is done during dusk or when it is dark out lighting is both a convenience and a psychological asset during an emergency, that I liken to having a campfire.
Overall, I thought I was pretty prepared for sheltering in.  With the natural gas not down, I didn't have to worry about using my grill (although I did), and could continue to use my stove to cook.  I took it upon myself to play with some
Bannok recipes
 and fry up some Bannock Bread with my eggs.  Oh man was it good.
Areas that were challenges, were procuring gasoline for my car.  I was not prepared for a gasoline shortage.  That is changing as we speak.  Procuring ice for my coolers was also a challenge.  That is where the generator is going to come in.  Keeping the refrigerator/freezer up and running a little longer and periodically running the generator would have been very helpful… I lost a lot of fish in the freezer, and a bunch of stuff in the refrigerator.  With winter coming, and a fragile grid infrastructure already, those are
preps
that will be accelerated…
I hope this helps some of you that are preparing for whatever it is that you are preparing for.  I did not expect to be sheltering in myself, because most of my plans are (were) to
bug out
, in the event of an "event" of sorts.  I realize now that I cannot nor would it always be practical to bug out.  What are your thoughts on all of this…
———-
Please register with the Suburban Survival Blog today for contests and give aways today! Click Here To Register Now!
Don't forget to check out our sponsors and affiliates located to the right. They work hard to make sure the products you want are available when you want or need them for your preps.
Check out Suburban Survival Blog Daily.
Suburban