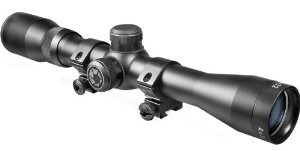 The Henry AR-7 comes with a small rail on top of the receiver for a scope.  As I am not thrilled with the rear peep site, I have had this on my list to purchase for about a month or two.   This past weekend, I spent a few dollars on a 4 x 32 scope for my Henry.  Brand is unimportant to me at this point, because I could not competently review a scope if my life depended on it.  I know how to sight them in, and for my Henry, I can tell you I spent $42.00 on it, and at this juncture, am happy with that.  I probably could have saved $10.00 by ordering it online, but wanted to give the gun shop I go to the business.  I like doing that when I can.  I also walked out of there with a new compressed 50 degree sleeping bag from chinook, and a couple of extra bandannas as well.
After bringing it home I fitted the scope, and will take it to the range before the end of the week to site it in.  I recently also purchased two 16″ MOLLE pockets to attach to the sides of my BOB (I have a post coming up about the contents of my BOB), and slipped a brick of 500 rounds of CCI .22 ammunition, the Henry AR-7, and the scope in one of the pockets.  It was a tight fit, but they seem to fit in there fine.
I am looking forward to getting to the range, probably tomorrow evening after work, and sighting in the scope…
———-
Please register with the Suburban Survival Blog today for contests and give aways today! Click Here To Register Now!
Don't forget to check out our sponsors and affiliates located to the right. They work hard to make sure the products you want are available when you want or need them for your preps.
Check out Suburban Survival Blog Daily.
Suburban